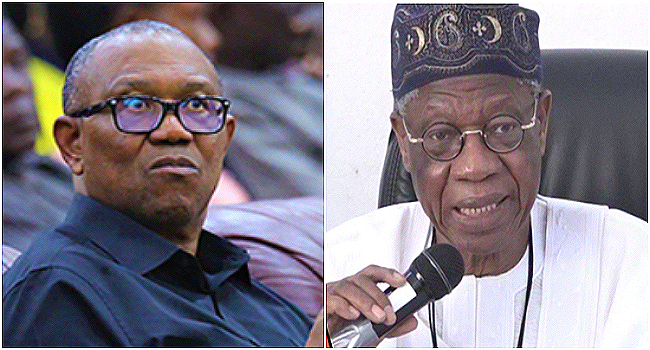 After being embroiled in a controversy over a leaked conversation with Dr. David Oyedepo, Founder and Presiding Bishop of Living Faith Church Worldwide, presidential candidate of Labour Party (LP), Peter Obi, found himself under scrutiny again when the Federal Government accused him of treason. This accusation came weeks after the ruling party's candidate, Bola Tinubu, won the presidential election.
The Minister of Information, Lai Mohammed, spoke to journalists in Washington D.C. about the government's position on the matter. Mohammed accused Obi of inciting violence over the election outcome, which he deemed to be a treasonable offense. Obi, who finished third in the election, along with the Peoples Democratic Party (PDP) candidate, Atiku Abubakar, who finished second, is currently challenging the results in court.
While both Obi and Atiku have urged their supporters to avoid violence, Mohammed believes that seeking redress in court and inciting violence is unacceptable. Mohammed is currently engaging with international media organizations and think-tanks about the 2023 polls. He has already spoken to the Washington Post, Voice of America, Associated Press, and Foreign Policy Magazine. "Obi and his running mate, Yusuf Datti-Ahmed, cannot be threatening Nigerians that if the President-elect, Tinubu, is sworn in on May 29, it will be the end of democracy in Nigeria.
READ ALSO: Afenifere, Ohanaeze and Arewa Youths Unite Against Interim Government Scheme
"This is treason. You cannot be inviting insurrection, and this is what they are doing. Obi's statement is that of a desperate person, he is not a democrat that he claimed to be. A democrat should not believe in democracy only when he wins election," he said.
According to him, neither Obi nor Atiku have a pathway to victory in challenging the election results because they did not meet the constitutional requirements necessary to be declared president.
"The Constitution has stringent criteria for anybody who wants to be president of the country. Not only must he have the plurality of votes cast in an election, he must also have scored one-quarter of votes cast in at least 25 states.
"Only the President-elect met the criteria by scoring 8.79 million votes and having one-quarter of all the votes cast in 29 states of the federation. Atiku came second with 6.9 million votes, but was only able to make one-quarter of the votes cast in 21 states, while Obi came third with 5.8 million votes, but won only one-quarter of the votes cast in 15 states.
"You cannot win an election in a poll where you came a distant third position and failed to meet constitutional requirements. Obi, while complaining of fraud, has not disowned his victory in Lagos," he said.
Mohammed explained that his purpose for being in the U.S. was to counteract the negative narratives that were being spread by the opposition and naysayers about the election.
He revealed that the opposition, who lost in the election, was making allegations of fraud and demanding the election be cancelled and an interim government be formed.
In response to this, Obi stated: "I have never discussed or encouraged anyone to undermine the Nigerian state; I have never sponsored or preached any action against the Nigerian state. Those initiating these actions have increasingly used their official positions and agents to make false allegations against me.
"I am on record as always, advocating peace and issue-based campaign and never campaigned based on ethnicity or religion. I am committed to due process, and presently seeking redress in the court.
"I urge those engaged in this de-marketing process to stop presenting Nigeria in such bad light. Our future generations deserve a new Nigeria, where they can live a secure and decent life like their counterparts in other climes. It is possible."
Additionally, he stated that the current strategy of demarketing and slanderous campaigns against him by certain government and political party representatives would negatively portray Nigeria to the world.
He said: "It is most unfortunate that these consistent efforts to portray me quite contrary to what I am and my core values, is coming from such high quarters. Minister Lai accusing me of stoking insurrection is malicious and fictitious."
Furthermore, the National Chairman of LP, Comrade Julius Abure, criticized the Minister of Information and advised him to refrain from misinforming the international community about the political situation in Nigeria. He suggested that Mohammed should instead reprimand the spokespersons of the ruling party.
READ ALSO: Soyinka Advocates Southeast Presidency for Civil War Healing
"Our presidential candidate is a peaceful and law-abiding person. Despite the fact that the election was provocatively rigged, he decided to be peaceful and toe the part of justice. In spite of all pressures from our supporters to move into the street to protest the outcome of the general election and to reclaim the mandate freely given to our candidate by the people, he has decided to calm the nerves in other to give the judicial process a chance.
"The presidential candidate of LP is the only candidate whose campaign  was issue-based. In spite of all provocation, it was LP and its candidates that were attacked in Lagos, Rivers and other states, but we have continued to promote peace. Therefore, for the Minister of Information to be admonishing our presidential candidate, was done in bad fate."
The Human Rights Writers Association of Nigeria (HURIWA), a civil rights advocacy group, expressed disagreement with Mohammed's warning that Obi would be committing treason if he continues to challenge the supposed victory of President-elect Tinubu.
In a statement by its National Coordinator, Emmanuel Onwubiko, the group stated that such a warning is unfounded since a President-elect does not hold any constitutional powers, authority, or duties on behalf of the Federal Republic of Nigeria.
"Chapter 4 of the Constitution guarantees every citizen of Nigeria, including Obi, the fundamental freedoms, including freedom to associate with everyone and to exercise his freedom of speech.
"We are urging Mohammed to stop overheating the polity because there is no law that says persons who feel cheated in an election should sit indoors.
"President-elect is simply someone on rehearsal and hasn't yet been conferred with any legal powers exercisable by a sitting President. And even a citizen President can be thoroughly criticised by the people of Nigeria, who owns the sovereignty of Nigeria," HURIWA said.