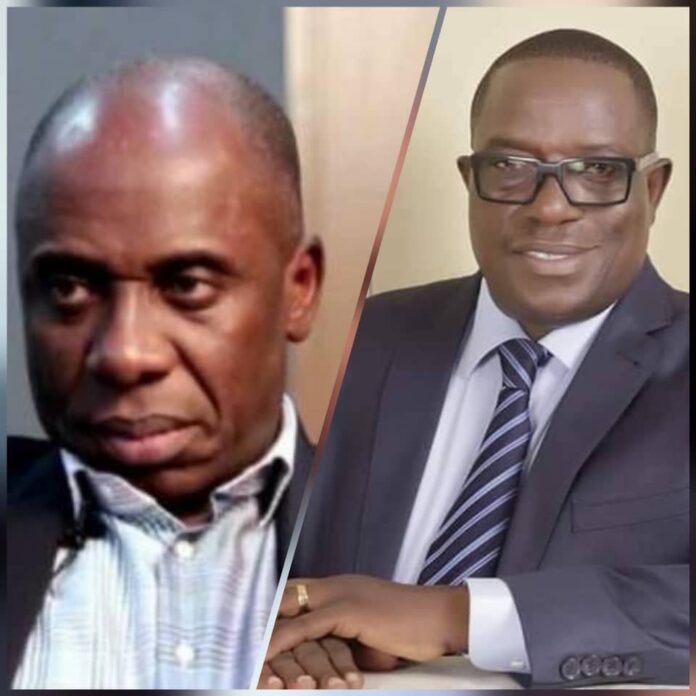 Idowu Sowunmi
It's no longer news that President Muhammadu Buhari has recognised Victor Giadom as Acting National Chairman, with a promise to attending the virtual meeting called by Giadom tomorrow afternoon.
Speaking through his Senior Special Assistant on Media and Publicity, Garba Shehu, Buhari admitted that he has been well schooled and legally advised accordingly on the crisis rocking the All Progressives Congress (APC).
"The President has received very convincing advice on the position of the law as far as the situation in the party is concerned and has determined that the law is on the side of Victor Giadom as Acting National Chairman. Because he will always act in accordance with the law, the President will be attending the virtual meeting Giadom called for tomorrow afternoon.
"We urge the media to stop promoting manufactured controversies and to not give any further room for mischievous interpretations of the law on this matter.
"In addition to the President, the Giadom meeting will, hopefully, be attended by our Governors and the leaders of the National Assembly," said a statement by Shehu, in response to enquiry by some journalists.
Sources at the Presidency said Buhari's new position was made possible by the intervention of the Minister of Transportation, Rotimi Amaechi.
Amaechi's singular effort has made some political analysts to describe him as the new kid on the block of Nigerian politics.
"He (Amaechi) understands the game of power. He practises politics with so much dexterity and sagacity. His influence looms larger than life in the Presidency. When he speaks and analyses politics, every one is often taken awe.
"That's how he succeeded in winning President Buhari and other key people in Presidency to accept the candidacy of Victor Giadom as the Acting National Chairman of APC. The deal is done. Welcome to a new era in the ruling party," said the source.
Amaechi's intervention was coming after Ekiti State Governor, Kayode Fayemi, and Giadom made unsuccessful frantic efforts to meet Buhari over the APC crisis.
Though the duo visited the Presidential Villa in Abuja on Tuesday night, they could not see the President. Instead, the President's Chief of Staff, Ibrahim Gambari, attended to them.
Earlier, Amaechi claimed he had decided to keep out of the crisis rocking APC because he did not want to get involved in politics, noting that he's not sure what the cause of the crisis was.
He had said: "What is happening in APC, I don't know; what is happening in Rivers State, I don't know. What I've done is to keep away from politics. Even if I'm bothered, it'll be internally.
"There's nobody there (in the party) who is a child; we're all adults. I don't want to get involved in politics.
"Nigerians know me for being blunt and honest. Some see it as arrogance, some see it as being brash, whatever it is. What do I need to say that I have not said before? It's internal dynamics of politics, it's internal struggle.
"So, I have said it several times. When we fought in 2015, I said this country cannot continue the way it is going. I'm not helpless, but I'm doing what they call 'siddon look (sit down and look)."
But, on Wednesday his politics of "siddon look" took flight to unknown destination as he moved in to save the party from further crisis.
With Giadom's recognition, it may be politically difficult for Adams Oshiomhole and his sympathisers to return to the leadership mantle of APC.
As APC supporters and Nigerians await the official statements of Mr. President tomorrow afternoon during the party's virtual meeting called by Giadom, one thing seems to be certain for now: there's a new sheriff in town and the ruling party may not be the same again.