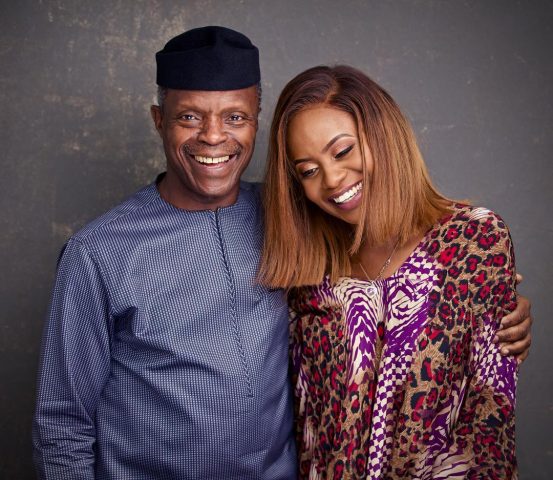 The blogger, Jackson Ude, who alleged that Nigeria's Vice President, Prof. Yemi Osinbajo collected the sum of N4 billion, a part of recovered stolen funds, from the suspended acting Chairman of the Economic and Financial Crimes Commission, EFCC Ibrahim Magu, has  declared that he was not afraid of the Vice President.
The Vice President had on Thursday, asked the Inspector-General of Police (IGP), Mohammed Adamu, to investigate allegations that he received N4 billion from Magu.
READ ALSO: I never requested N4b from Magu – VP Osinbajo refutes
Osinbajo's petition, addressed to Adamu through his lawyer, Taiwo Osipitan and dated July 8, 2020 asked IGP Adamu to initiate criminal proceedings against Jackson Ude if the allegations are proven to be untrue after investigation.
And reacting to this, Ude said the Nigerian police cannot arrest him and insisted that Osinbajo must first resign as Vice President before dragging him to court.
He said that since the Vice President is denying the allegation, the Presidential Panel investigating Magu and the police, should be compelled to release the verbatim transcripts of Magu's confessions.
Ude, a former Director of Strategy and Communications under President Goodluck Jonathan administration,wrote on his twitter page: "Since Osinbajo, the Star Boy, is denying, let's have lawyers compel the Presidential Panel investigating Magu and the Police, to release the verbatim transcripts of Magu's confessions. This is not about waving immunity.
READ ALSO: Magu Probe: Osinbajo requests IGP investigates N4billion allegations by blogger
"I am not afraid of Osinbajo and his minions. If he indeed wants to go to court, he needs to resign first, and sue me. He cannot be VP and be using state resources to intimidate the Judiciary. He cannot wave an immunity that he didn't place. Osinabjo should resign first!
"Osinbajo should have used the U.S Police, FBI or even the CIA to charge me for criminal defamation. Using the Nigerian Police is a waste of poor Nigerian taxpayers money. Except his aim is to arrest me in Nigeria, lock me up forever. Anyway, perhaps Na my ghost dem go arrest", Ude stated.
In another statement, Ude who seemed not done with the Osinbajos hurled another salvo, this time claiming that the Vice President's daughter, Kiki Osinbajo acquired a property in Abuja with stolen funds.
In his words, Ude, without any substantiated reference wrote: "How did Kiki Osinbajo, VP Osinbajo's daughter, earn N800million she invested in the property housing her Glam'd Africa Beauty House in Abuja on 10 Durban Street, Wuse 2. Abuja?"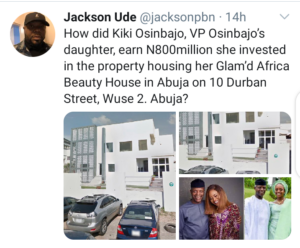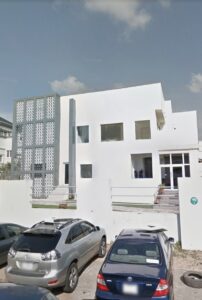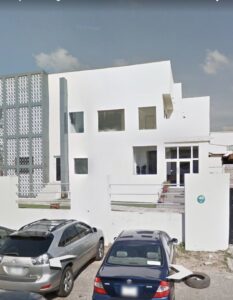 However, investigation revealed that the house Ude claimed Ms. Osinbajo acquired has number 40 on it, while the current property housing the said Glamd Africa business belonging to the VP's daughter is number 10.
In her reaction, Kiki Osinbajo debunked the alleged illegal purchase of a property worth N800 million and described the claim it as "unbelievable".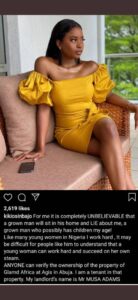 a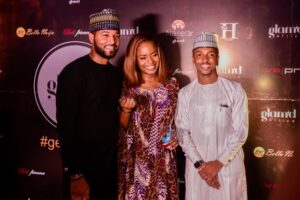 READ ALSO: EFCC: FG confirms Magu's suspension, Umar's appointment as Acting Chairman
Kiki Osinbajo in a statement posted on her Instagram page stated that: "For me it is completely unbelievable that a grown man will sit in his home and lie about me, a grown man who possibly has children my age.
"Like many young women in Nigeria I work hard , It may be difficult for people like him to understand that a young woman can work hard and succeed on her own steam.
Anyone can verify the ownership of the property of Glamd Africa at Agis in Abuja. I am a tenant in that property. My landlord's name is Mr Musa Adams", Ms. Osinbajo stated.