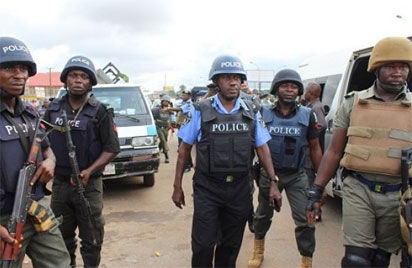 Robbers have been reported to have stormed Ogun Radio, Rounder and Adeun areas along Aiyetoro road in Abeokuta.
The incident was reported by a resident, Bola Hussein, who lives in the E2 area of Olomore Housing Estate in Abeokuta this Thursday afternoon.
In a telephone chat with Echotitbits, Hussein confirmed the robbery incident, saying she had been in touch with friends who live in the affected areas.
Hussein expressed fear that the robbers will not spare her area as her home is only about a 10minute drive from the affected areas.
She said "There is a robbery going on, we don't know what is happening, The chairman of our landlord association informed everybody now. We have been calling people living in Adeun, Ogun Radio, rounder, they said the robbery is going on right now. They are really attacking people entering houses."
It was gathered from Hussein, that the robbers were forcing their way into houses one after the other and attacking occupants. she also stated that the Assistant chairman of the Landlord Association in her area identified as Deluola, called to warn resident of the impending attack.
"The Assistant Chairman of our landlord association in E2 Olomore, gave us the information when he called about 30 minutes ago,"
While It is however not clear if the police in Abeokuta have responded to the incident as at 3pm, Hussein said "she has been hearing the whistle of security men, vigilantes alerting themselves".
Meanwhile, another resident of Sabo, Terry Asibor, who spoke to Echotitbits confirmed that he has seen videos on Whatsapp statuses of neighbors around Sowunmi, a neighborhood close to his home.
He stated that, in the videos, security officials were seen ushering some boys in their vehicles.
.