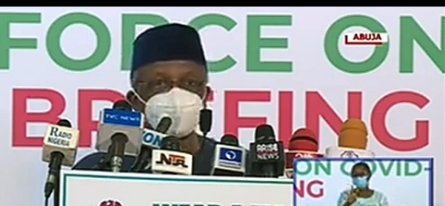 Nigeria's Minister of Health, Dr Osagie Ehanire has urged state governments not to relent in their efforts at combatting coronavirus (COVID-19).
The Minister gave this charge Monday during the Presidential Task Force (PTF) on COVID-19 media briefing in Abuja.
"We urge all state organs not to relent in strengthening surveillance and scaling up sample collection in all the wards of the hotspot Local Government Areas (LGAs).
READ ALSO:
President Buhari vows to improve education, healthcare others before May 2023
"The logistics for sample retrieval & testing must be assured as Nigerian Governors Forum makes provision for at least 1 lab in every state", Ehanire said.
Commenting on plans by the Federal Government to reopen Lagos & Abuja for commercial & international flights, he emphasised the need to guard against new cases coming into the country.
"It is our collective interest to guard against new cases entering the country. We must review our protocols to ensure early detection, isolation & treatment of positive cases."
The Minister disclosed that the case fatality rate of COVID-19 in Nigeria has slightly dropped to 1.88% .
"The gradual fall is possibly an indication of improvement in response & treatment strategies to contain COVID19.
READ ALSO:
Buhari moves NIMC to Federal Ministry of Communications and Digital Economy
"Part of the strategy is to focus on setting up community support centres particularly in remote areas of the country where those who test positive may be kept if they live in high density areas.
"Collaboration with states & FCT health sector structure is crucial", he emphasised.
Ehanire also noted that to further strengthen government's capacity, he will commission a study group of the Ministerial Expert Advisory Committee to begin processes that will examine all developments & bring new knowledge that can guide response & government decision making.