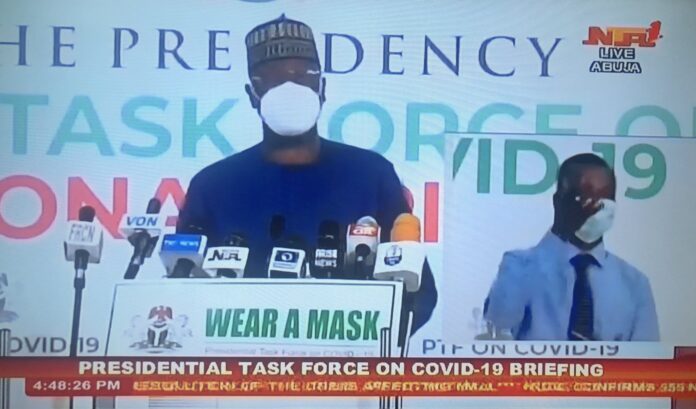 The Federal Government of Nigeria has extended the second phase of easing COVID-19 lockdown regulations due to breach of guidelines and non-pharmaceutical measures put in place.
The Chairman of the Presidential Task Force (PTF) on COVID-19, Boss Mustapha made this known during the daily briefing on Monday.
Mustapha, who is also the Secretary to the Government of the Federation (SGF) expressed fear that: "Majority of Nigerians irrespective of status, creed and level of education continue to live in denial on the virulent nature of the virus and consistently breach the guidelines and non-pharmaceutical measures put in place".
The SGF, who noted that the PTF, having reached an advanced stage of the process, has considered extending the second phase of eases of lockdown by one more week.
"Due to the upcoming Sallah (Eid El-Kabir) festivities which coincides with the expiration of the current phase it would be prudent to extend by one week, from 29th July, 2020 till Thursday 6th August, 2020. It has accordingly secured permission to retain the existing guidelines till that date.
"Our analysis has shown that people over 50 years of age especially those with underlying factors remain most at risk. This position is backed by the fact that 65% of fatalities recorded in Nigeria are in this category, Mustapha said.
I'm his advise to Nigerians, the PTF chairman said: "If you do not need to go outside your home, please stay indoors. Avoid large gatherings and observe all the measures.
"As we prepare for the Eid El Kabir celebration, we also want to urge all our Muslim Brothers and Sisters and indeed all Nigerians to continue to observe all measures, he said.
Recall that the first phase of the relaxed lockdown was extended by two weeks and elapsed midnight June 1. The second phase commenced on June 2 and was to elapse midnight, June 29. During the PTF briefing of that day, Mustapha announced that President Muhammau Buhari had approved that the Phase Two of the eased lockdown be extended by another four weeks with effect from Tuesday, June 30, 2020, through Midnight of Monday, 27 July, 2020.
Although, some of the regulations have been lifted, such as reopening of domestic flight operations and resumption of interstate travels, and state governments have modifications, the Phase Two of the eased lockdown are as follow:
The nationwide curfew of 10:00 P.M.
4:00 A.M. daily.
Healthcare workers and journalists are
exempted from this curfew.
Banks may resume normal working hours.
Government offices will be open between
9:00 A.M. and 2:00 P.M. Monday – Friday.
The ban on interstate movement except for
agricultural produce, petroleum products,
manufactured goods, and essential services (now lifted).
All airports remain closed to domestic and
international travel, except for emergency
flights. (Domestic flight operations now
resumed).
The PTF is considering plans to reopen
airports for domestic flights by June 21, 2020 if proper protocols are put in place by the
aviation industry. (Now implemented).
Kano State is approved to enter phase one of eased lockdown.
Face masks or coverings are mandatory in
public settings and handwashing/sanitizing
practices must continue to be followed.
Ban on gatherings of more than 20 people
outside of a workplace.
Relaxation of restrictions on places of
worship based on guidelines issued by the
PTF and State governments.
By Tobiloba Kolawole