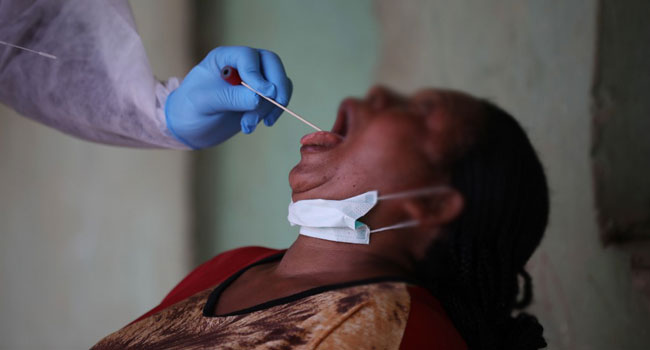 The Institute for Peace and Conflict Resolution (IPCR) has called on the general public to adhere strictly to the NCDC protocols on COVID-19 with a view to preventing the spread of the pandemic in the country.
The Director General of the Institute Dr. Bakut T. Bakut made the call on Monday 21st September, 2020 in Awka, Anambra State at the occasion to mark 2020 World Peace Day celebration.
The Director General who was represented by Grace Awodu, Chairlady, local Organizing Committee, World Peace Day, said that because of the COVID-19 pandemic, celebration of the 2020 World Peace Day was low-key.
He said the Institute for Peace and Conflict Resolution through South-East Zonal Office is collaborating with people and Anambra State Government to organize "Peace Summit" in Awka, Anambra State to mark the Day.
Dr. Bakut further observed that COVID-19 is still present in the country, the danger of community spread still looms large and as such all efforts must be in place to resist further spread through adhering to the preventive measures prescribed by Nigeria Centre for Diseases Control (NCDC).
The IPCR Boss enthused "I appeal to all to embrace the advice on physical distancing, wearing of facemask, sanitizing or washing of hands and caution in social gatherings."
Dr. Bakut further explained that conflict is a major distraction of efforts being made at combating the COVID-19 Pandemic and other diseases in Nigeria. He said resources, energy and time are wasted in quelling conflicts at the expense of facing the COVID-19 and other health related diseases.
The Director General call for an end to all forms of violence, armed banditry and criminality in Nigeria. He advocated for the use of dialogue in the management of conflict.
While speaking on the theme of the event "Shaping Peace Together" Dr. Bakut called on State Government and non- governmental organization to mark the day by spreading compassion, kindness and hope in the face of the pandemic.
He urged Nigerians to stand against any attempt to use the virus to promote stigmatization, conflict and criminality in Nigeria.