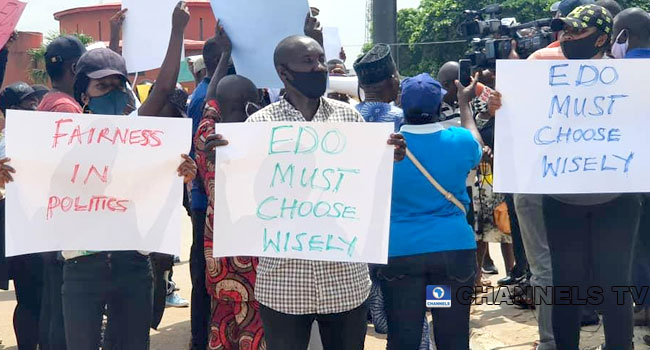 The political drama playing out in Edo State ahead of the September 19 Governorship election continues today as youths who are members of the Edo Concerned Citizens stormed the streets of Benin, the Edo State capital to stage a peaceful protest.
The youths on Saturday marched through major streets carrying signs that read "fairness in politics", "Peace not war", Edo must choose wisely", amongst others.
The protest March, which is suggestive of the political tension that is brewing in the state due to the disagreement between the immediate past governor of the state, now National Chairman of the All Progressives Congress (APC), Comrade Adams Oshiomhole and the incumbent, who is seeking a reelection under the APC, Governor Godwin Obaseki, was clear in its purpose of reaching out to political gladiators in the state and demanding a peaceful governorship election.
The protesters, who explained that the demonstration became necessary as political events heightened in the state, also urged political leaders to sustain the relative peace in the state as they prepare for the September 19 governorship election.
They also noted that recent turn of events, likely referring to the power tussle within the APC, which on Friday led to the disqualification of Governor Obaseki by screening officials, have raised concerns about likely violence and other electoral malpractices during the upcoming governorship election.
As the protest held, rumour of the defection of Governor Obaseki to the Peoples Democratic Party (PDP) was rife in town.