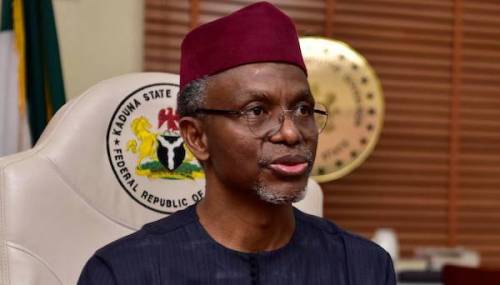 An online campaign calling on the United Kingdom and the European Union to place a travel ban on Kaduna State governor Nasir El-rufai has so far gathered 22,000 signatures out of 25,000 signatures targeted.
The petition, which was initiated on change.org was a move aimed at having the UK and UN take decisive action against Governor El-rufai.
The campaign, which was initiated by a former aide of ex-President Goodluck Jonathan, Remo Omokri, now an ardent critic of All Progressives Congress (APC)-led government accused Governor El-Rufai of allegedly promoting genocide, religious and political intolerance in Kaduna state.
According to Omokri: "Nasir El-Rufai is a threat to the peace and security of Nigeria for many reasons.
"There has been an intense escalation of the killings of mostly Christians in Kaduna, and on August 25, 2020, suspected herdsmen abducted seven schoolchildren and their teacher from Prince Academy, in Kaduna. They have not been seen or heard of since then," Omokri said.
"On February 6, 2019, he threatened foreign observers, including observers from the EU and UK with death, warning that they would return in body bags should they intervene in Nigeria.
"On July 15, 2012, Nasir El-Rufai said, and I quote 'We will write this for all to read. Anyone, soldier or not that kills the Fulani takes a loan repayable one day no matter how long it takes.' This threat has been carried out in Southern Kaduna where there is an ongoing genocide of Christians under el-Rufai's watch", the petition stated.
Recall that earlier in the week, the United Kingdom announced that it will seize assets and impose visa restriction on individuals that are caught rigging during the Edo and Ondo State governorship elections.
In a statement, the British High Commission in Nigeria said: "As a friend and partner of Nigeria we are closely following the lead up to the off-cycle governorship elections in Edo and Ondo states scheduled for September 19 and October 10 respectively.
"The UK takes a strong stand against election-related violence and, just as we did in the general election in 2019, will continue to take action against individuals we identify as being responsible for violence during the elections.
"This could include restrictions on their eligibility to travel to the UK, restrictions on access to UK based assets or prosecution under international law", UK High Commission in Nigeria stated.
Incidentally, the warning by the UK government was followed a similar stand by the United States.
According to a statement by Secretary of State, Mike Pompeo, the US said it has imposed a visa ban on some Nigerians culpable for rigging during the Kogi and Bayelsa State governorship elections in 2019.
Pompeo stated that these individuals who have been involved in election fraud have so far operated with impunity at the expense of the Nigerian people and have undermined democratic principles in Nigeria.
In August, an invitation extended to El-Rufai by the legal conference planning team of the Nigerian Bar Association (NBA) was withdrawn by the National Executive Committee, the association's highest decision making body over several petitions.