The 12year jail term handed to former Governor of Abia State, Senator Orji Uzor-Kalu, has been nullified by the Supreme Court of Nigeria.
In a unanimous decision by the seven-man panel of Judges, led by Honourable Justice Amina Augie, the Supreme Court ruled that the Federal High Court in Lagos lacked jurisdiction to convict the trio of Kalu, his Slok Nigeria Limited firm and a former Director Of Finance in Abia State, Jones Udeogu
READ ALSO : Corruption, nepotism, insider dealings in Nigeria Judicial Council revealed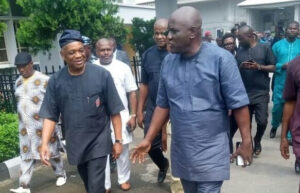 Nigeria's apex court held that, as at when Kalu and other defendants were convicted for siphoning about N7.1 billion belonging to Abia State,  the trial judge, Justice Mohammed Liman, was no longer a Judge of the Federal High Court because he had already been promoted to the Court of Appeal.
On the basis of this, the Supreme Court thereby vacated the judgement of the Federal High Court in Lagos that convicted Kalu and Co, therefore ordering a fresh trial.
In his remark, after exiting the prison, the former Governor of Abia State, who is a serving Senator said, his five months incarceration gave him the opportunity of learning "invaluable lessons" about Nigeria and the citizenry.
READ ALSO:  Updated: Buhari appoints ex-IGP Abba as Chairman Police BoT
The Senate Chief Whip, who is representing Abia North Senatorial District at the upper arm of the National Assembly was found guilty of fraud and money laundering in December 2019, and subsequently, sentenced to 12year imprisonment.