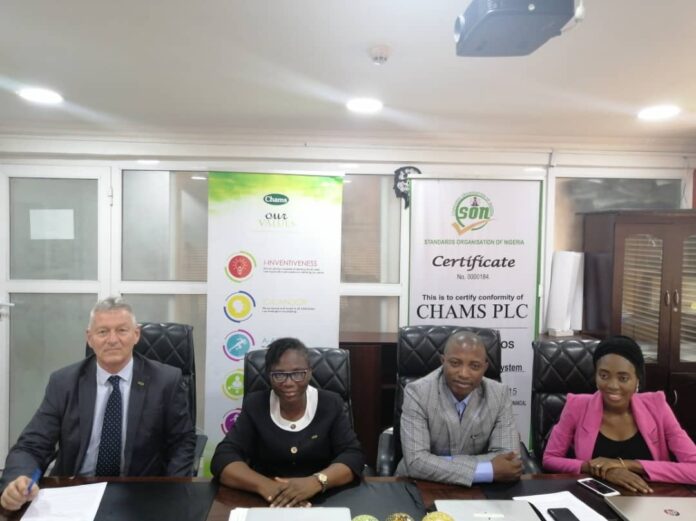 A technology approach to solving some of the challenges faced in pension administration has been introduced with the development of I'M Alive, a pensioner verification solution by Chams Plc.
The Group Managing Director (GMD) of Chams Plc, Gavin Young, at an interactive session with journalists on Monday, at the firm's corporate headquarters in Victoria Island, Lagos, said the solution, which is a mobile application, is designed to ease verification processes for both pension administrators and pensioners.
The I'M Alive solution, according to the Lagos based firm will verify pensioners remotely in the comfort of their homes using a facial biometric mobile app that facilitates quick and easy verification for both government and private pensioners, and provides pension administrators with comprehensive reporting to ultimately facilitate pension payments.
READ ALSO:
Proposed ₦13trillion 2021 Budget Passes Second Reading at the House of Reps
In his remark while explaining the impact, Young noted that the I'M Alive solution would go a long way towards solving a major process-intensive hurdle for the Pension Industry.
"For both pensioners and pension payers, I'm Alive solution is convenient, saves time & money, easy-to-use, less administrative bottle neck and headaches. The Solution is fully equipped with features that will make life easy for pensioners as it is supported by Artificial Intelligence which will detect liveliness and authenticate the Pensioner for payment processing.
"The app and pensioner are not linked to a particular phone number or mobile handset. Any smartphone with a functionality that aides selfie alignment and lighting quality can be used, ensuring a higher success rate for pensioners using the app.
The firm's GMD expressed confidence about the security of the application noting that it cannot be hacked, stressing that no third party can impersonate a registered and verified pensioner on the app.
"Every data is encrypted and it cannot be copied. In addition, Chams Plc adheres to data protection compliance regulations as specified by NITDA", he stated.
Speaking on the sustainability of the solution, Young admitted that while the priority for now is to solve the basic problems of inconvenience and overhead cost associated with the current physical presence verification, the mobile verification app solution can still do a lot more. He added that more features such as linking payment to the app could come later.
READ ALSO:
African Development Bank Appoints Yacine Fal as Director-General, President's Cabinet Office
The GMD, giving further explanation on the product said "the design had in mind users that are not tech savvy and in the remote areas as pensioners don't have to be tech-savvy to use the app as it is user friendly and has detailed explanations, including the ability to work in an offline mode.
"The verification can be done on any smartphone, owned by anybody. Once you have your BVN & retiree number ready, it takes less than three minutes as verification is real-time.
"Through this product, Chams has continued to expand operations through strategic partnerships and innovative products and solutions that are tailored to the Nigerian and African Markets" Young said.
Earlier this year, Chams Plc, a Nigerian company of over 35years experience at providing digital solutions across a broad range of customer segments in Nigeria embarked upon a new vision and strategy that focuses on consumer-facing innovative digital solutions that are mobile phone based and not only beneficial to Nigerians but the greater African market.
By Tobiloba Kolawole