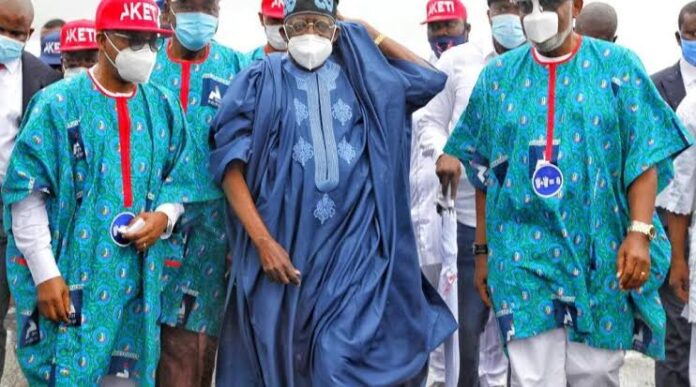 National leader of the All Progressive Congress (APC), Asiwaju Bola Ahmed Tinubu, weekend tasked the Federal Government to review the current means of revenue generation and criteria used for allocation to states and local governments in the country.
Speaking at the commissioning of the ultra modern Ondo State Internal Revenue Service Complex tagged Revenue House in Akure, Tinubu described the current formula as faulty, saying the present revenue approach has created rooms for an encroachment into the statutory areas of revenue generation of state and local governments.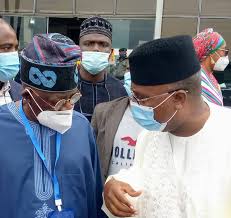 While explaining that his position should not be interpreted to be criticising the President Muhammadu Buhari-led Federal Government, the APC national leader said he has a strong belief in national unity and even development of the country.
He described revenue generation as a very important means for the survival of any economy, adding that if any government at any level is denied needed revenue, development agenda may suffer greatly.
Tinubu also described Ondo State as a great potential for energy, economy and agriculture, noting that when the potentials were fully utilised and youths were engaged, social unrest in the region would become history.
"If all the South-west governors embark on physical federalism, which is what the country needs at this time. We are APC and in government today, but that does not translate to the fact that we cannot find faults and criticise ourselves to achieve the best for the country.
"The cumbersome revenue formula of the Federal Government today needs an urgent review. It has to be reviewed for the progress of the country.
"The South-west governors should be consistent in the level of financial inquisitiveness as to where and why and when the revenue formula will be at par with the physical federalism of the country.
"There are various encroachments that I have noticed and with you as a lawyer and financial experts, you should reform the financial bottlenecks in the country today.
"What is the element of stamp duty in the context of federal allocation? What element of transaction belongs to the state? Why are we getting involve in what should be a residual matter of the state? We need to tell each others the truth and not smile always. We will not be afraid to do the right thing for the country because it belongs to everyone.
"You can equally use the synergy with the Odua investment to collaborate not only on Amotekun syndrome. Amotekun is a creation of necessity for hoodlums caused by unemployment, frustration and hunger," he said.
After the commissioning ceremony, Tinubu along with the Chairman of the APC National Caretaker and Extra-Ordinary Convention Planning Committee and Yobe State Governor, Mai Mala Buni; Chairman, APC National Campaign Council for Ondo State Governorship election and Lagos State Governor, Babajide Sanwo-Olu, among others held a meeting with Ondo State traditional rulers at Dome International Event Centre and later stormed Akure Township Stadium for the flag-off of Akeredolu's re-election campaign.
Speaking during a meeting with the traditional rulers, Tinubu said APC leaders in the state as well as South-west and national level are united to ensure that Akeredolu is re-elected in the October 10 guber poll in the state.
He urged all the traditional rulers in the state not to relent in their support towards Akeredolu's re-election, charging them to implore their subjects and people to work tirelessly for the governor's second term bid.
He also implored the people of the state not to allow opposition to win the state, noting that voting for APC would be an added advantage to the South-west's quest for 2023 presidency.
According to him, "We are all united to work for Akeredolu's re-election so that APC will continue to govern Ondo State and other states in the country. We commissioned Revenue House today. Governor Akeredolu has performed very well and he deserves to be re-elected based on his performance and achievements in office in his first term.
"I want to implore all traditional rulers to endorse Akeredolu and work for his re-election. His re-election is in the interest of the people of Ondo State and Yoruba land at large. As the ruling party at the federal level, we should allow continuity in Ondo State.
"Please, we are here to tell you and show that there is no quarrel between children of Oodua. We will not go back to the situation of 1983."
While addressing party supporters at the stadium, Tinubu said: "You don't fight the PDP. There is no point fight a corpse inside the coffin, just settle down and calmly nail their coffin."
He tasked the party members to rally round Akeredolu and give him all the support he needs to lead the state.
"Unity and adherence to collective purpose are hallmarks of progressive politics. Our ability to place the public welfare above our personal ambitions is what differentiates us from the political regressives who would rather that the general welfare suffer so they can fulfil their personal whims and wishes.
"As progressives, we must carefully tend to our bridge of unity. We must never allow it to break. We entered politics and governance to serve the people and this purpose should always bind us in ceaseless fraternity and togetherness," Tinubu said.
Also, speaking during the flag-off rally, Sanwo-Olu appealed to the people of the Sunshine State to vote for Akeredolu, who he described as a progressive man that has brought real development to Ondo State during his first term in office.
He said: "We are here today to campaign for Governor Akeredolu and his re-election has been endorsed by traditional rulers in the state. Akeredolu has really performed well during his first term in office and his achievements are visible in different parts of the state.
"On behalf of the National Campaign Council, I want to appreciate all of you. I want to say to you that Ondo State is receiving first class governance.
"Ondo State is receiving a progressive man that has brought about real development. Aketi has done well and I want you to re-elect him. Thank you for your support. We will see you in October for a resounding victory for Aketi."
Presenting the party's flag to Akeredolu, Buni said APC is united and the party would work toward winning the election.
He added that the party's campaign for the APC candidate is easy because Akeredolu has delivered dividends of democracy to the people of Ondo State in the last four years.
Buni also received business mogul, Jimoh Ibrahim, and former Commissioner in the State, Femi Adekambi, and others who defected to APC during the event into the fold of the ruling party in Ondo State.
In his remarks, Akeredolu commended all his colleagues and other party leaders and members as well as people of Ondo State for turning out in thousands to witness the APC governorship campaign flag-off.
He appealed to the people of Ondo State to vote for him in the October 10 governorship poll.
The rally was also attended by a former Interim National Chairman of APC, Bisi Akande; Chairman, Nigerian Governors' Forum and Ekiti State Governor, Kayode Fayemi; Chairman, Progressive Governors Forum and Kebbi State Governor, Atiku Bagudu; Deputy Chairman, APC National Campaign Council and Plateau State Governor, Simon Lalong.
Others are: Governors Abdullahi Ganduje (Kano); Gboyega Oyetola (Osun); Abdulrahman Abdulrazak (Kwara); Dapo Abiodun (Ogun); and Abdulahi Sule (Nassarawa).
Minister of State for Petroleum, Timipreye Slyva; and a former Borno State governor, Ali Modu Sheriff, among others also attended and appealed to the people of Ondo State to come out in large numbers to vote for APC during the governorship poll.
Idowu Sowunmi