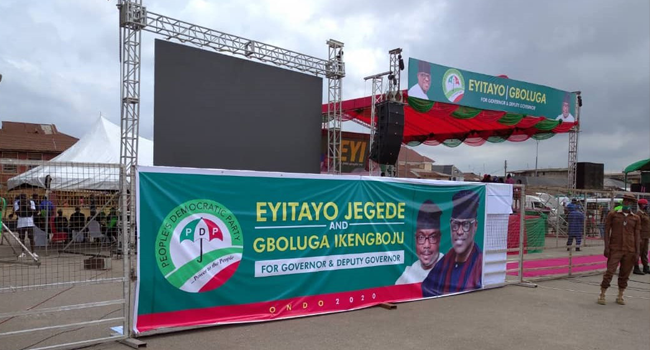 Governorship candidate of the Peoples Democratic Party (PDP) in Ondo State, Eyitayo Jegede, along with other party chieftains and supporters Saturday flagged off PDP electioneering campaign ahead of the October 10 guber poll in the state.
It was a moment to behold as PDP supporters thronged out in their numbers to MKO Abiola Democracy Park in Akure to register their presence at the rally.
The party chieftains including Governors Seyi Makinde (Oyo) and Aminu Tambuwal (Sokoto) among others were made resounding remarks to assure and reassure the people of Ondo State of good governance in the next four years.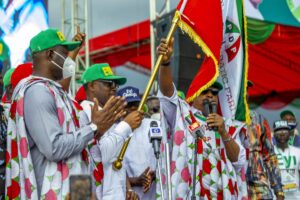 It was a moment pf celebration as PDP National Chairman, Uche Secondus, handed over the party's flag to Jegede for Ondo State 2020 governorship election.
Speaking at the rally, Makinde, who's also the Chairman of Ondo State Gubernatorial National Campaign Council, drew a comparison between his election in Oyo and the impending Ondo State governorship poll.
He explained that he won Oyo State governorship elections in 2019 despite contesting under PDP, without any political stronghold in the state at the time or strong political backing at the federal level.
"We have people, and we have God. In Ondo State, you have God and you have people. It happened in Oyo State, it will happen here.
"APC said you should vote them because they want Presidency to come to Yorubaland.
"Please tell them, this election is not about the presidency to Yorubaland. This election is about delivering Eyitayo Jegede and putting Ondo State as part of the states that will take charge to restructure Nigeria," Makinde said.
Also speaking at the rally, Tambuwal described the ruling party in Ondo State as a party in disarray up to the national level.
According to him, "APC is not a choice for Ondo State."
The rally was also attended by the Senator representing Ekiti South, Abiodun Olujimi, among others.
Idowu Sowunmi