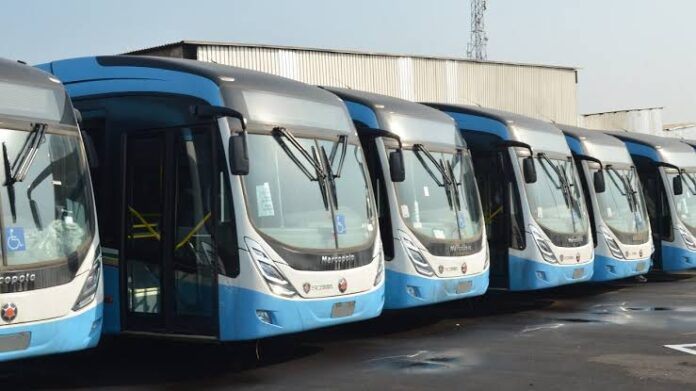 A driver of the Bus 240-171, Mayowa Olajide, owned by Lagos State Bus Service Limited (LBSL), which was allegedly used for carrying thugs to disrupt the #EndSARS protest in Alausa, has spoken up in order to set the record straight.
Olajide, who spoke during a live briefing held on Thursday by Lagos State Governor, Babajide Sanwo-Olu, at the State House in Marina, explained how the alleged thugs attacked the peaceful protesters.
According to him, "I took passengers from Berger Bus Stop and we were heading to Oshodi Bus Stop.
"On getting to Alausa under the bridge, there was a protest going on there. I had to stop moving the bus to allow the protesters leave the road, so that we could pass.
"After about three minutes, we saw another group of youths, whom we presumed to be protesters, disembarking from yellow minibuses. They were armed with machetes and axes. They moved towards the protesters who blocked the road and started attacking them.1
"Upon sighting the armed youths, the passengers in my bus and I became frightened. They asked me to open the doors, so that they could flee from the scene. I opened the doors; some of them ran out, while others remained in the bus. I also abandoned the bus and ran away from the scene, because I didn't know what was going on.
"After some minutes, normalcy returned to the scene. Some of the passengers remained in the bus when I came back. Some left. We continued our journey thereafter. Nobody was injured in the bus and the bus was not destroyed by the hoodlums."
Also speaking on the matter, Sanwo-Olu said the police had been on the trail of the hoodlums who attacked protesters in Alausa.
He reaffirmed that his administration would continue to identify with the demonstrators who conduct themselves peacefully.
The governor, therefore, directed Lagos State Police Command to ensure adequate security for citizens who respect the law and orderliness in the cause of their protest.
Meanwhile, LBSL Managing Director, Idowu Oguntona, has suspended all bus operations for the safety of passengers following the #EndSARS protest in the city.
Oguntona said the suspension was due to a viral video on social media about thugs who purportedly alighted from its bus 240-171 to attack protesters at Alausa Secretariat.
While dismissing erroneous narrative in various social media platforms, Oguntona said the bus was heading towards Oshodi from Berger around 8am when some armed individuals disembarked from a particular yellow vehicle in front of the bus at Alausa Secretariat Bus Stop.
Idowu Sowunmi