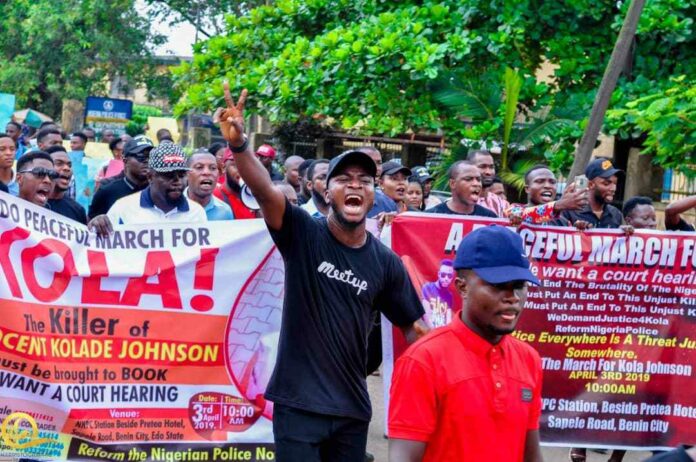 Tactical squads within the Nigeria Police Force (NPF) has been banned from carrying out routine patrols and othe conventional low-risk duties.
According to a statement by police spokesman, DSP Frank Mba on Sunday, Inspector General of Police (IGP), Mohammed Adamu ordered that "all FSARS, STS, IRT & other Tactical Police Squads operating at Federal, Zonal & Command levels are hereby banned from carrying out routine patrols & other conventional low-risk duties – stop & search duties, checkpoints, roadblocks, traffic checks, etc – with immediate effect.
READ ALSO: Video: Atiku, Saraki Condemn Killing of a Young Man by SARS in Delta
The IGP also warned that: "Henceforth, no police personnel is authorized to embark on patrols or tactical assignments in mufti".
The statement by Mba further stated that: "All Police Force personnel must always appear in their police uniforms or approved tactical gear.
"All Tactical Squads must also desist from the invasion of the privacy of citizens particularly through indiscriminate and unauthorized search of mobile phones, laptops and other smart devices.
"Henceforth,the Commissioner of Police in charge of FSARS, Commissioners of Police in charge of State/FCT Commands as well as their supervisory Zonal Assistant Inspectors General of Police, will be held liable for any police misconduct within their Area of Responsibility (AOR)" the IGP warned.
The IGP assured that authorities will step up monitoring of all activities of Tactical Squads (FSARS etc) and other police officers, nationwide, and ensure the prompt arrest, investigation and prosecution of all officers who violate these directives and other Force regulations.
Furthermore, the IGP stated that the NPF's complaint Response Unit (@PoliceNG_CRU on Twitter) will also continue to be available to receive and investigate complaints against Police Officers, for appropriate action.
READ ALSO: Ondo Guber Election, APC, PDP Supporters Engage in Gun Battle
IGP Adamu however encouraged Nigerians to make available full details of incidents to the Unit, using any of their contact details.
This directive comes barely 24 hours after a young man was reported to have been killed by FSARS operatives in Delta State on Saturday. The ugly incident sparked renewed anger and clamour amongst Nigerians for an end to the squad, which many believe has gone rogue and unable to protect citizens.
Read NPF HQ's press statement below