Members of Ondo State House of Assembly have sharply divided over the process of removing the Deputy Governor, Agboola Ajayi, who recently decamped from the ruling All Progressives Congress (APC) to the opposition Peoples Democratic Party (PDP).
Nine Assembly members opted out of the plot to impeach the deputy governor, while 17 members wanted Ajayi out.
Ondo State House of Assembly has 26 members, 18 lawmakers are needed to impeach either the governor or deputy governor.
The legislators are currently deliberating on the allegations of gross misconduct against Ajayi.
Scores of armed policemen and the men of the Nigeria Security and Civil Defence Corps (NSCDC) were present at the Assembly complex to maintain the law and order.
Meanwhile, as struggles to remain in office, Deputy Governor Agboola is poised to thwart the plot to impeach him. Reports by Sahara Reporters stated that Agboola Ajayi has approached a Federal High Court sitting in Abuja to stop the impeachment process.
It was reported that Ajayi, in an originating summon on his fundamental human rights sought the declaration of the court to restrain members of the state's House of Assembly from impeaching him as deputy governor.
According to SaharaReporters, a Senior Advocate of Nigeria, Barrister I. Olatoke approached the court on behalf of Agboola an joining in suit, the Inspector-General of Police, Commissioner of Police in Ondo State, Director-General of the Department of State Services, Speaker, Ondo State House of Assembly, and Ondo State House of Assembly.
Ondo House of Assembly documents.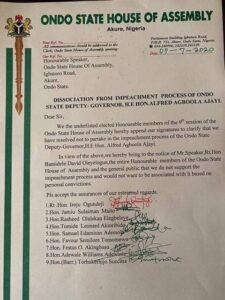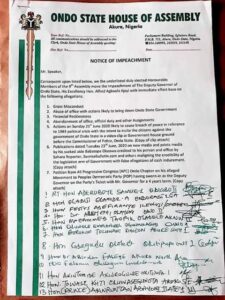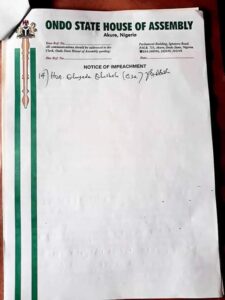 Idowu Sowunmi