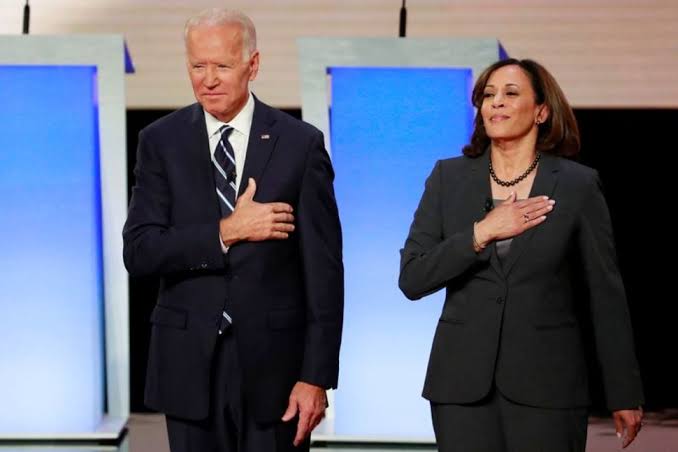 US Democratic candidate in the November Presidential election, Joe Biden has named Kamala Harris as his running mate, making the California senator the first Black and South Asian American woman to run on a major political party's presidential ticket.
The former Vice President who served alongside President Barak Obama was reported to have disclosed his pick in a mail on Tuesday
"I've decided that Kamala Harris is the best person to help me take this fight to Donald Trump and Mike Pence and then to lead this nation starting in January 2021", he wrote.
READ ALSO:
NBA appoints Sierra Leonean-American, Victor Williams, Africa CEO
Biden's choice, Kamala Harris, had rivaled the presidential hopeful during the contest for the Democratic party's nomination.
Harris, a Senator representing California, rose to national prominence within the Democratic party, especially when she interrogated Trump nominees, including former Attorney General, Jeff Sessions and Supreme Court Justice Brett Kavanaugh, during Senate hearings.
Described as a politically shrewd Senator, Harris had centered her  own presidential bid on her readiness to take on Donald Trump and show Americans she would fight for them.
This development means She makes history as the first Black woman to serve as a major political party's VP pick.
In a tweet, Harris said: "I'm honored to join him as our party's nominee for Vice President, and do what it takes to make him our Commander-in-Chief."
.@JoeBiden can unify the American people because he's spent his life fighting for us. And as president, he'll build an America that lives up to our ideals.

I'm honored to join him as our party's nominee for Vice President, and do what it takes to make him our Commander-in-Chief.

— Kamala Harris (@KamalaHarris) August 11, 2020