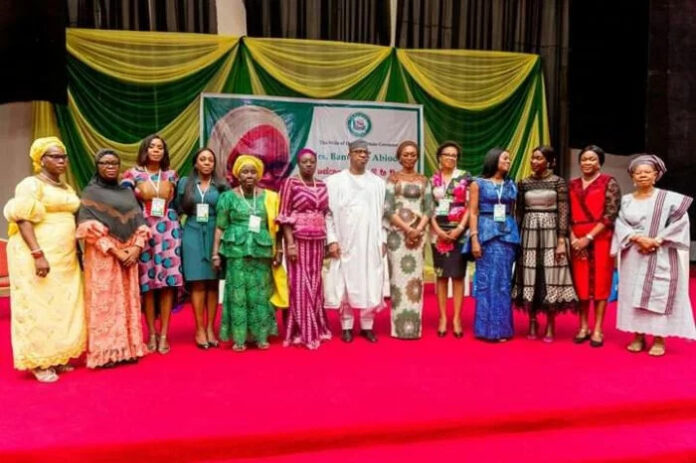 By Tobiloba Kolawole
Wife of Ogun State Governor, Mrs. Bamidele Abiodun has declared support and unwavering commitment to the plight of Widows in Ogun State through the provision of skills acquisition, financial management and emotional management programmes.  
Mrs. Bamidele Abiodun made the declaration while addressing Widows from all Local Government Areas in the state at the commemoration of the International Widow's Day 2019 that was held at the June 12 Cultural Centre in Abeokuta the State capital.
In her speech, the First Lady reiterated the commitment of the current administration in the state to address and improve the welfare of the people.
She said: "This administration brings to you a renewed sense of hope to prosper, a supportive community and a sincere action towards achieving fulfillment and recognition for our mothers, sisters and daughters who have been neglected in the society."
Her Excellency, Mrs Bamidele Abiodun noted that the present government has a strong will to end the scourge of poverty and disabuse that widows often experience.
"We are committed to empowering our widows by providing them with the tools, skills and support necessary to create a life for themselves and their children following the death of their husbands."
To develop specific need-based programmes that will directly improve the lives of widows, Mrs. Abiodun stated that: "It is important to this administration to have good knowledge and understanding of their needs."
We will be meeting with widows' representatives from various communities across all Local Government Areas."
The First Lady ceased the occasion to announce her upcoming plans that is aimed at eradicating poverty and emotional sufferings amongst widows in Ogun State.
She stated as a critical enabler of her programmes, "the creation of a database where all widows in Ogun State will be registered."
"The ministry of women affairs will be responsible for ensuring that this database is up to date", Abiodun added.
For proper coordination, Mrs. Abiodun said: "Wives of Local Government Chairmen will ensure to have quarterly meetings with all widows in their local governments so as to monitor and track their development."
This will also foster a sense of community and sisterhood among widows in all Local Governments."
While lamenting the neglect of widows who go through the effect and limitations of poor emotional and mental well-being and issues such as grief from the loss of a husband, Mrs Bamidele Abiodun pledged that never again will such abandonment happen.
She said: "We will be taking on mental and counseling programmes across various communities in all Local Government Areas."   
Before the end of the year, there will be a 2day workshop for widows below the age of 55 on financial literacy and tips to manage personal finance as well as to develop and manage business activities." 
Her Excellency, Mrs Bamidele Abiodun further reiterated her commitment to ensuring a successful implementation of these programmes by partnering with private organizations and private individuals who will sponsor widows in Ogun State.
The event, which was first of its kind in Ogun State was graced by the Executive Governor of the State, His Excellency, Prince Dapo Abiodun.
In his address, the governor disclosed that his administration will soon begin a Micro-Credit Scheme for women traders, which will cut off challenges associated with raising funds from commercial financial institutions but give them access to grants.
The scheme which is tagged Oko'wo Dapo, is one of the welfare programmes of the governor Dapo Abiodun led administration.
Governor Abiodun stated that "our government is committed towards eradicating the rate of unemployment among youths in the state."
He assured the people that the process to enable government establish a Job Creation and Youth Employment Agency is in line."
He said further that the agency will be saddled with developing a portal that will house the database of youths across the state, indicating their skill set for the purpose of matching such with employments.
The event, which was themed Renewed Hope for Widows was organized by the Office of the First Lady of Ogun State in line with the United Nation's objective of drawing attention to the voices and experiences of widows and to galvanize the unique support that they need.   
Dignitaries who attended the event include the Deputy Governor, Engr. Noimot Salako Oyedele; newly sworn in officials- Secretary to the State Government, Mr. Olatokunbo Joseph Talabi and Chief of Staff to the Governor, Alhaji Shuaib Afolabi Salisu.
Others are Wife of Speaker, Ogun State House of Assembly, Mrs Victoria Oluomo; Wife of Head of Service, Alhaja Oluyemisi Bisiriyu; Olori Bimpe Gbadebo; wives of Honourable Members of the State House of Assembly; wives of permanent secretaries and other invited guests.