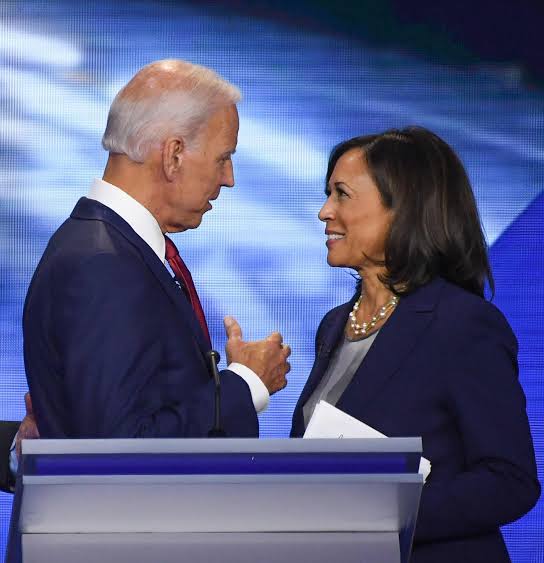 World leaders have been congratulating Joe Biden as the 46th President of the United States of America, along his history-making first female Vice President-elect, Kamala Harris.
Prime Minister Boris Johnson of the United Kingdom, while welcoming Joe Biden and Kamala Harris' victory, said: "Congratulations to Joe Biden on his election as President of the United States and to Kamala Harris on her historic achievement.
"The US is our most important ally and I look forward to working closely together on our shared priorities, from climate change to trade and security."
On his part, Canadian Prime Minister, Justin Trudeau, issued a congratulatory statement on the result of the U.S. presidential election.
"On behalf of the Government of Canada, I congratulate Joe Biden and Kamala Harris on their election as the next President and Vice President of the United States of America.
"Canada and the United States enjoy an extraordinary relationship – one that is unique on the world stage. Our shared geography, common interests, deep personal connections, and strong economic ties make us close friends, partners, and allies.
"We will further build on this foundation as we continue to keep our people safe and healthy from the impacts of the global COVID-19 pandemic, and work to advance peace and inclusion, economic prosperity, and climate action around the world.
"I look forward to working with President-elect Biden, Vice President-elect Harris, their administration, and the United States Congress as we tackle the world's greatest challenges together."
Also, Prime Minister of India, Narendra Modi, said: "Congratulations @JoeBiden on your spectacular victory!
"As the VP, your contribution to strengthening Indo-US relations was critical and invaluable. I look forward to working closely together once again to take India-US relations to greater heights.
"Heartiest congratulations @KamalaHarris! Your success is pathbreaking, and a matter of immense pride not just for your chittis, but also for all Indian-Americans. I am confident that the vibrant India-US ties will get even stronger with your support and leadership."
President of Croatia, Kolinda Graba-Kitarovic, in her message, said: "Congratulations to President-Elect @JoeBiden and first woman VP @KamalaHarris.
"Confident that partners and allies Croatia & US will continue working together & strengthening our long-lasting bonds. Determined leadership and cooperation are needed to overcome global challenges."
Shortly after news of projected victory of Biden-Harris ticket, former President Barack Obama congratulated his vice president and the vice president–to–be on their "historic and decisive victory."
Obama said: "I could not be prouder to congratulate our next President, Joe Biden, and our next First Lady, Jill Biden.
"I also couldn't be prouder to congratulate Kamala Harris and Doug Emhoff for Kamala's groundbreaking election as our next Vice President.
"In this election, under circumstances never experienced, Americans turned out in numbers never seen. And once every vote is counted, President-Elect Biden and Vice President-Elect Harris will have won a historic and decisive victory.
"We're fortunate that Joe's got what it takes to be President and already carries himself that way. Because when he walks into the White House in January, he'll face a series of extraordinary challenges no incoming President ever has – a raging pandemic, an unequal economy and justice system, a democracy at risk, and a climate in peril.
"I know he'll do the job with the best interests of every American at heart, whether or not he had their vote. So I encourage every American to give him a chance and lend him your support. The election results at every level show that the country remains deeply and bitterly divided. It will be up to not just Joe and Kamala, but each of us, to do our part – to reach out beyond our comfort zone, to listen to others, to lower the temperature and find some common ground from which to move forward, all of us remembering that we are one nation, under God.
"Finally, I want to thank everyone who worked, organized, and volunteered for the Biden campaign, every American who got involved in their own way, and everybody who voted for the first time. Your efforts made a difference. Enjoy this moment. Then stay engaged. I know it can be exhausting. But for this democracy to endure, it requires our active citizenship and sustained focus on the issues – not just in an election season, but all the days in between.
"Our democracy needs all of us more than ever. And Michelle and I look forward to supporting our next President and First Lady however we can."
In his reaction, former Vice President Atiku Abubakar, said: "I congratulate Joe Biden on his well-deserved victory at the November 3, 2020, US elections, and look forward to the age-long collaboration of our two nations in the course of the advancement of life, liberty, and the pursuit of happiness for all peoples.
"Nigeria and the United States are two nations, united by a common language. Indeed, the first major trip by the leader of an Independent Nigeria was the July 25, 1961, White House visit of the golden voice of Africa, the late Sir Tafawa Balewa, under President John F Kennedy.
"Nigeria and the free world, have much to learn from your victory, especially your pronouncement that you would not be a President for only those who voted for you. May such sentiments echo and re-echo globally.
"Not only do I congratulate you on your victory, but I also urge you to build on US-Nigeria relations, especially on widening the African Growth and Opportunity Act (AGOA) for seamless interplay with the African Continental Free Trade Area (ACFTA).
"Only by fair trade will Africa fulfil its potential, and a prosperous Africa is good for the United States and the world.
"In electing a man rich in experience, the great people of the United States of America have done the world a great service, and I also look forward to your global leadership in the war on terror, and partnership with Nigeria to end the terror and poverty-related insecurities that we face.
"Once again, accept my congratulations."
Also, former Senate President Bukola Saraki, said: "I congratulate the former Vice-President of the United States, Joe Biden, on his historic election as the next President of the United States."
"I also congratulate Senator Kamala Harris, who will be the first female Vice-President of the world's most vibrant democracy."
Idowu Sowunmi