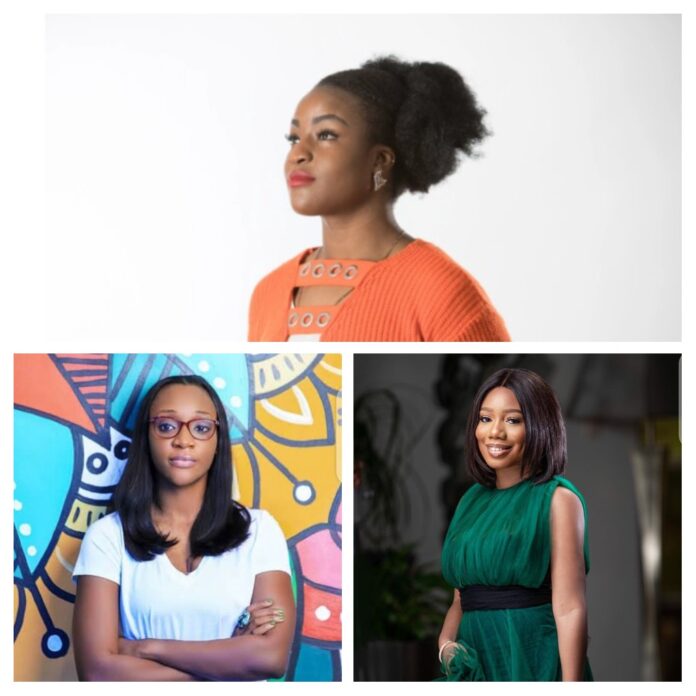 Authorities and youths home and abroad have been challenged not to despair in their quest and aspirations to attain leadership especially in governance, locally and nationally.
This call came from three Nigerian ladies, who are young leaders of social and development initiatives, in separate chats with Echotitbits Thursday on the strength of Youth Engagement for Global Action, the theme for this year's United Nations' International Youth Day commemorated around the world August 12, 2020.
In her brief reaction to assessing youth engagement in Nigeria, founder of the girl-group initiative – Femme Africa, Ayomide Dokunmu said: "Nigeria is one of the youngest populations in the world with an average age of 18 years old. This is why it is important for the youth to not lose hope while we continue to fight for the Nigeria that we all want to see!"
Dokunmu, who has created a community of vibrant young women, together pursuing a cause to increase the engagement of young women in the entertainment industry once lamented the difficulties faced in a previous interview with The Native Mag.
READ ALSO:
International Youth Day: Gbajabiamila, Atiku argue for youth participation in governance 
"We're at the point where "supporting women empowerment" programs are cool so brands want to seem like they're doing the work but they don't actually take the time to engage and see what will make impact- it's more hype than anything else".
With a view from the prism of civic and social responsibility, the General Manager of Techplus, Eniola Edun scored youth engagement in Nigeria low.
According to her, while youths in Nigeria struggle for survival, apparently due to economic and unemployment challenges, there is a gap of misrepresentation, underrepresentation, and even the fear to demand inclusion.
"The youth engagement is at the lowest with little or no participation in civic or social responsibilities. Every youth is driven by survival. We are either misrepresented or underrepresented especially when it comes to where it matters the most, we talk the talk but very afraid to walk the talk  hence why most agenda in our favour is never at the forefront of the nation's agenda", Edun said.
The techpreneur, who is also an executive member of The Lighthouse Network community – a female oriented network founded to help women build a work – life balance however stated that Nigerian youths are beginning to take issues that concern them more seriously in recent years.
"I have seen a shift in the last few years, we are beginning to pay attention and maximise our influence as the larger percentage of the country's population", she said.
READ ALSO:
BBNaija misrepresents Nigerian youths, replace it – Ọọni of Ìfẹ says
In assessing youth engagement from a point of view of a dual nationality in the minority, Nigerian-British Legal Assistant, Elizabeth Ogunbodede, who has been privileged to participate at local, regional and national initiatives lauded authorities for their efforts at improving youth inclusion in governance.
She said: "Different toolkit and workshops has been designed to help young people understand the knowledge they have of democracy and democratic structures.
"It is part of educating young people on systems of government and leadership while still in a learning environment, which helps to ensure that future generations are empowered with the skills, knowledge and confidence to fulfill their roles as active citizens."
However, she expressed that the views of many other minority youths are still not heard in decision making in UK communities.
"Many young people specifically Black, Asian and Minority Ethnic (BAME) have views on the issues which are important to them but they are often not translated into traditional forms of democratic participation".
Advocating for an improvement in decision making especially in local communities, Ogunbodede emphasized the strength of youths in nation building saying: "young people are experts on what affects them and can provide innovative solutions to problems".
Elizabeth Ogunbodede, who founded Build Your Legacy, an initiative that seeks to inspire people in her community to find and pursue their gifts, pushed for more inclusion of young people in political systems so as to build trust.
"A lot of mistrust in political systems stems from a lack of understanding of the work MPs, peers and local councilors do, therefore  if young people have a better understanding of how they work for them, this will increase their trust in them especially in the BAME community.
"There is a need to develop the next generation of leaders, if young people are engaged early they will see themselves as agents of change and will be more inclined to see themselves as a future leader, she added.
Last Wednesday, many Nigerian leaders challenged themselves, and youths alike, on opening up the door for young people to participate in governance and national leadership.
The speaker of the Nigerian House of Representatives, Femi Gbajabiamila spoke on how to achieve a profound transformation of governance when he urged those in government and politics to "commit to opening the political space to allow for greater participation by our nation's youth.
READ ALSO:
Buhari virtually commissions 17-storey Content Tower in Bayelsa
Similarly, former Vice President Atiku Abubakar assured Nigerian youths of his commitment to supporting them at all times. He said: "I shall stay the course and continue to offer my shoulders for you all to climb because as youths, you are Leaders of Today".
Youth engagement in leadership is one of the United Nations critical objectives, enabling the engagement of youth in formal political mechanisms to increase the fairness of political processes by reducing democratic deficits, contributes to better and more sustainable policies, which has symbolic importance that can further contribute to restore trust in public institutions, especially among youth.
By Tobiloba Kolawole