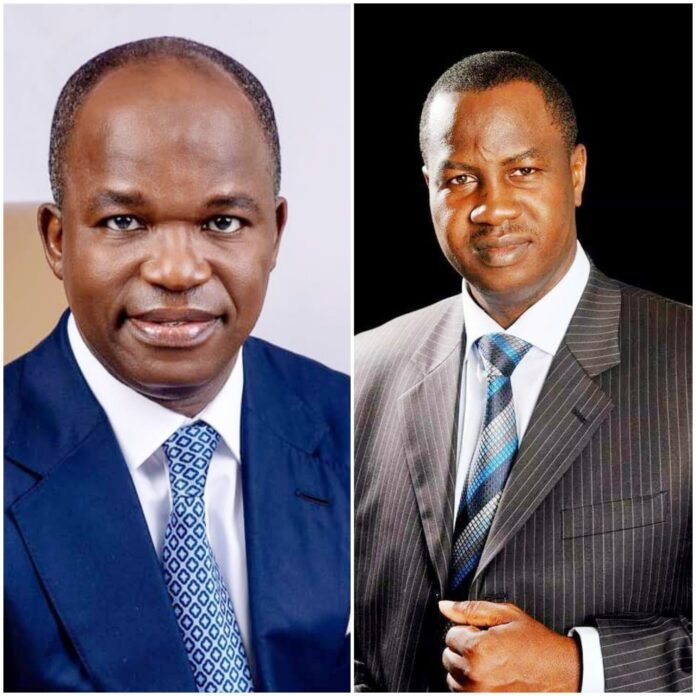 It's no longer news that Adetokunbo Mukhail Abiru has been chosen as the All Progressives Congress (APC) candidate for Lagos East Senatorial District by-election, while Babatunde Olalere Gbadamosi would fly the ticket of the Peoples Democratic Party (PDP) at the forthcoming poll.
Both Abiru and Gbadamosi are expected to canvass for votes among the electorate who reside and are duly registered by the Independent National Electoral Commission (INEC) within the senatorial district ahead of the October 31 by-election.
READ ALSO:
In Akure, Tinubu Says Nigeria's Revenue Strategy Should Be Reviewed to Stimulate Economic Growth
Of note is the fact that Abiru and Gbadamosi have carved a niche for themselves in their various areas of human endeavour. While the former recently retired as the Managing Director/Chief Executive Officer of Polaris Bank, the latter is a successful businessman and real estate expert.
Abiru has almost three decades of banking experience and served as Lagos State Commissioner for Finance from 2011 to 2015 in the administration of Babatunde Raji Fashola.
Born on March 25, 1964, Abiru earned a B.Sc degree in Economics from Lagos State University (LASU). He's also an alumnus of Harvard Business School (Advanced Management Programme). He also attended Lagos Business School (Senior Management Programme).
He's a Fellow of the Institute of Chartered Accountants of Nigeria (ICAN) and an Honourary Senior Member of the Chartered Institute of Bankers of Nigeria (CIBN).
Gbadamosi was a governorship candidate of the Action Democratic Party (ADP) in Lagos State during the 2019 general elections. He's generally described as the man who won the debate, but ended up as the second runner up at the general election. In March 2020, he rejoined PDP and eventually became the party's candidate for the forthcoming by-election.
Gbadamosi was born on October 15, 1967. He attended the now defunct Lagos State School of Basic Studies in Agindingbi, Ikeja and also Lagos State University (LASU).
He's described as a foremost businessman, real estate developer and politician. He's the Chairman/Chief Executive Officer of Redbrick Homes International Limited, developers and promoters of the popular Amen Estate in Ibeju Lekki, Lagos State.
Both candidates have impressive qualities any one can boast, thus, the election is expected to be keenly contested.
READ ALSO:
Buhari Says Akeredolu Will Win Ondo Governorship Poll Fairly
The election may also be a direct pointer to possible outcome of the 2023 general elections. This means, if PDP should win the election, APC may need to go extra miles to retain the state come 2023.
On the other hand, a win for APC means a further political consolidation, for the ruling party to maintain its stronghold in Lagos State and beyond.
Whichever way, the coming days are expected to witness flamboyant and robust electioneering campaigns, leading to the October 31 by-election in Lagos East Senatorial District, in a bid to succeed Adebayo Osinowo (aka Peperito) who died of Coronavirus (COVID-19) on June 15, 2020.
Idowu Sowunmi