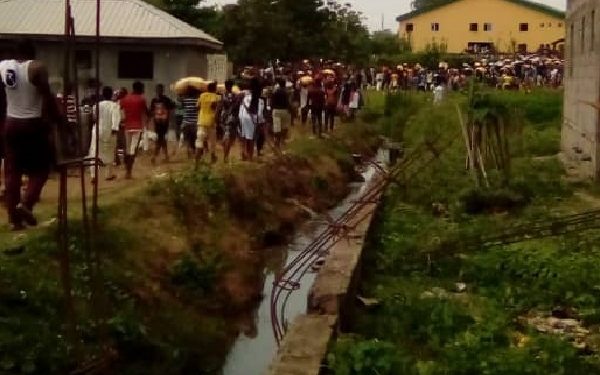 Three women have been feared dead, as a result of stampede while several others suffered suffocation during a looting spree that occurred at a huge warehouse located in the Gwagwalada area of the Federal Capital Territory(FCT) Abuja.
Reports had it that some who were suffocating were helped out of the building and being assisted with sachets of water.
The looting spree was the climax of restiveness which started at about 8:43am when some youths gathered within the routes to the warehouse.
The restiveness heightened when the youths, who were later joined by commercial motorcyclists, gathered in hundreds, shouting and expressing anger over the sufferings in the land. The motorcyclists might have fueled the raid as they came with stories of looting and raid incidents from other parts of the country, the Nation Newspaper reported.
READ ALSO:
Advocacy Group Threatens NBC with Lawsuit Over "Illegal" Sanction of Arise, AIT, Channels TVs
At about 9am when personnel of the Nigeria Civil Defence and Security Corps (NCDSC), the Nigeria Police and the Brigade of Guards of the Nigeria Army, who arrived the venue early, blocking the roads with their vehicles, could no longer control the crowd and being were overpowered, the youths and women forced their ways into the warehouse, broke the doors and part of the wall and began looting all items inside the building, including COVID -19 palliatives.
The warehouse, said to have been built within five months by the Gwagwalada Area Council for the purpose of storing the COVID-19 palliatives was further damaged when some hoodlums climbed fences from adjacent compounds near WAEC office while others fought their ways through the back of Fidelity Bank premises, breaking parts of the roofs to gain entry.
The crowd of looters grew even larger as youths from the surburbs of Angwa Dodo, Wazobia Parks, Tipper garrage, Passo and surrounding areas of Gwagwalada markets also stormed the warehouse of COVID-19 palliatives.
According to videos circulating on the internet, the crowd of looters were heard saying: "This is our money, these people are wicked to have hidden these products and refused to share them."
READ ALSO:
It'll Cost N1tr to Fix Lagos after Arson, Destruction – Sanwo-Olu
In a report by The Nation items looted were listed as bags of rice, cartoons of indomie noodles, spagetti, macaroni, bags of fertilisers, Indorama products, brand new motor bikes, grinding machines, bags of salt, bags of Sugar, and cartoons of soaps.
However, by 11.23am, some reinforcements of security operatives forced their ways into the massive warehouse, which had COVID 19 written on it and shut it down without the use of tear gas or fire any shots, which could lead to stampede and more deaths.