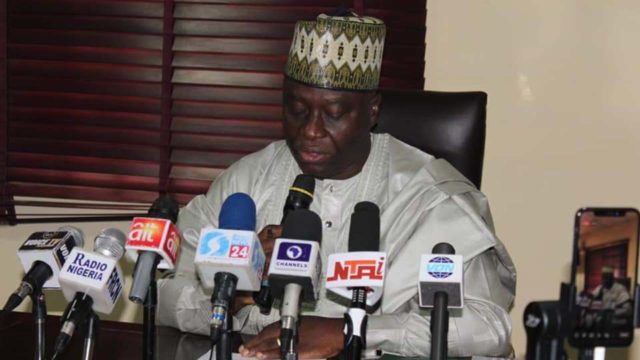 A legal and advocacy group, the Socio-Economic Rights and Accountability Project (SERAP) has threatened to sue the National Broadcasting Commission (NBC) over sanctions imposed on three national television station, AIT, Channels TV and Arise TV for airing images attributed to the alleged Lekki Shooting of unarmed #EndSARS protesters.
In a swift reaction to the sanctions by the regulatory body, NBC on Monday, SERAP in a statement said it condemned the action, which it described as illegal fines.
"We condemn the illegal fines of N9m reportedly imposed by the National Broadcasting Commission on Channels TV, AIT and Arise TV [N3m each] over their coverage of the #EndSARS protests. We'll sue the NBC if the unconstitutional fines are not rescinded within 48 hours.
"This action by the NBC is yet another example of Nigerian authorities' push to silence independent media and voices. The NBC should drop the fines and uphold Nigerian constitution and international obligations to respect and protect freedom of expression and media freedom.
"The fines are detrimental to freedom of expression and the media, and access to information in Nigeria, and the NBC must withdraw the decision", SERAP stated.
SERAP in its reaction to NBC's sanction affirmed that media freedom and media plurality are a central part of the effective exercise of freedom of expression and access to information.
It said: '"The ability to practice journalism free from undue interference, to cover peaceful protests, and critical views are crucial to the exercise of many other rights and freedoms.
"The media has a vital role to play as 'public watchdog' in imparting information of serious public concern and should not be inhibited or intimidated from playing that role.
"The NBC should stop targeting and intimidating independent media and voices", SERAP ordered.
Recall that on Tuesday, October 20, 2020, hours before the alleged shooting of unarmed peaceful protesters, an incident the Nigerian army has denied, the NBC had issued a press statement containing guidelines on how broadcast media firms in Nigeria should cover the #EndSARS protest, with specific instructions not to embarrass the government.
PRESS RELEASE!!!

GUIDELINES ON THE COVERAGE OF CRISIS. pic.twitter.com/Oj4icOiRKG

— nbcgovng (@nbcgovng) October 20, 2020
However, Nigerians have began to kick against the sanctions on AIT, Channels TV and Arise TV. Minutes after the announcement of the sanction by NBC, some Nigerians took to twitter to Twitter to vent their anger, describing the fine as illegal and an attempt to gag the media even when the constitution of the Federal Republic of Nigeria guarantees freedom of speech.
Nigeria needs to get rid of NBC as is today, a Gestapo regulator. https://t.co/ATEwNnbMgG

— Tunji Andrews (@TunjiAndrews) October 26, 2020
Breaking News;

Since the federal government can't gag TV stations like @ARISEtv or make them do its biddings,it has resorted to using sanctions from the NBC to intimidate those professional TV stations.

This is very undemocratic.

— Sageer Tafawa-Balewa (@MuhammadSageer) October 26, 2020
One of the strongest signs of a dictatorship is putting a gag on the media. The sanction that NBC just put on Arise TV, Channels TV and AIT and the social media bill that they're proposing is political tyranny. The government should not control media.

— ULOMA (@ulxma) October 26, 2020
By Tobiloba Kolawole