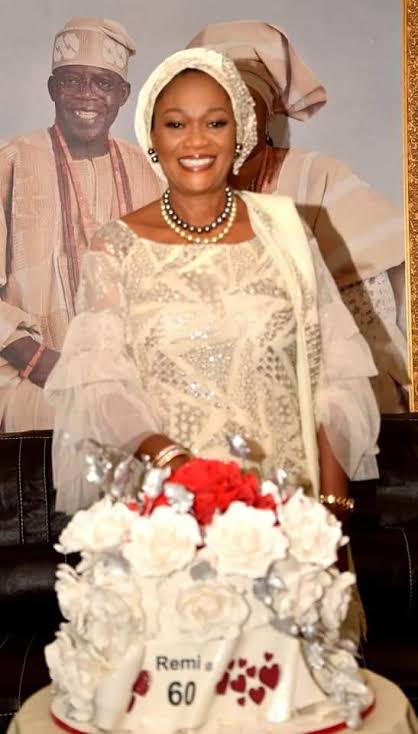 President Muhammadu Buhari, National Leader of the All Progressives Congress (APC), Asiwaju Bola Ahmed Tinubu; Lagos State Governor, Babajide Sanwo-Olu; and his Ogun State counterpart, Dapo Abiodun, have felicitated with a lawmaker, representing Lagos Central Senatorial District, Oluremi Tinubu, on her 60th birthday anniversary.
Oluremi Tinubu, a former First Lady of Lagos State, turns 60 today (September 21).
Buhari, in his warm felicitations, joined family, friends and political associates "to celebrate the milestone, adorned by many years of service to the nation and humanity."
The President saluted the senator, who has been re-elected three times to represent Lagos Central Senatorial District, "for her courage and tenacity in many daunting situations, and remaining consistent in her passion for inclusivity, particularly as it relates to women and children, who constitute majority of the population, yet rank high on vulnerability."
Buhari noted "with gratitude, the loyalty and dedication of Senator Tinubu to the growth of the governing party, All Progressives Congress, and her contributions to strengthening leadership structures at various levels, always providing wise counsels and advocating middle ground reconciliation in favour of greater good for greater majority."
As the senator turns 60, the President believed "the stage for better and more rewarding service has been set, with all the experiences gathered over the years from Lagos State Government House, and as a ranking member the National Assembly."
Buhari, in his statement by his Special Adviser on Media and Publicity, Femi Adesina, prayed for "strength, good health and wisdom for the graceful matriarch of the Asiwaju Bola Tinubu family."
Also celebrating his darling wife, Asiwaju Tinubu described her as his strongest ally and supporter through the most difficult moments.
According to him, "You have been my strongest ally and supporter through even the harshest and most difficult times, which is a separate chapter in itself, reflecting your perseverance, endurance and independent character.
"The darkest days of my political exile were made easier by your presence by my side, even though very difficult for our children, as we struggled together for the return of democracy to our land and the hope of a better Nigeria…"
On his part, Sanwo-Olu on behalf of the good people of Lagos State and his wife, Ibijoke, heartily congratulated Senator Tinubu on the occasion of her 60th birthday.
He described the senator as an amazing amazon, whose name is synonymous to social justice and a voice of the voiceless.
"Our Dear Amazon, attaining the age of 60 years in grace and elegance is worth celebrating.
"Over the years, you have emblazoned your name as an advocate of social justice, a philanthropist and a voice of the voiceless.
"As the lawmaker representing Lagos Central Senatorial District, your input to national growth is a pragmatic testament of visionary leadership.
"Through your pet projects, Spelling Bee and the New Era Foundation, you became a reference point in women and youth development in the country.
"On this landmark 60th birthday, I pray for continued God's guidance and more of your service to humanity, Lagos and our country.
"Happy 60th Birthday to an Amazing Amazon," Sanwo-Olu said.
To Ogun State Governor, attaining 60 is a huge milestone for anyone, saying he's proud of the legacies of former First Lady of Lagos State in statecraft as a ranking senator of the Federal Republic of Nigeria.
Abiodun said: "I heartily felicitate you on the auspicious occasion of your Diamond Jubilee Birthday. This is, no doubt, an important landmark in your very eventful life.
"Turning 60 is a huge milestone for anyone. You have many things to be grateful for after living your life for six decades and justified that you are an Ogun State icon of excellence as educationist, administrator, entrepreneur, philanthropist and political icon.
"As First Lady in Lagos State, your New Era Foundation remains a reference for others on youth development, girl child education, women empowerment and for inspiring young persons to excellence.
"We are also proud of your legacies in statecraft as a ranking Senator of the Federal Republic of Nigeria.
"We pray that as you join the Diamond League, God Almighty will grant you grace of many more years in the service of humanity, in good health and with renewed vigour to hold the banner of excellence in progressive politics."
Idowu Sowunmi