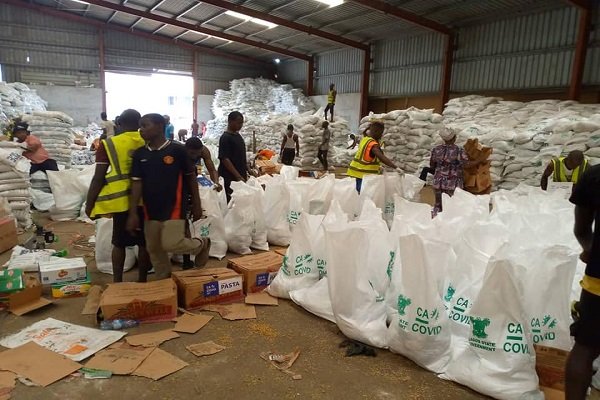 A resident of Monkey Village, Maza maza, in Amuwo Odofin area of Lagos State has accused the government of concealing CACOVID COVID-19 palliatives, which was meant to be distributed to cushion the effect of COVID-19 lockdown on the vulnerable poor resident of the state in a warehouse.
The Leadership reported that Abiodun, who was among many residents of the area that stormed the warehouse to cart away food items said: "These Lagos State Government people are wicked, we are dying of hunger, they kept this food stuff here since May, waiting for everything to die down and they will go and sell and pocket the money. We were begging them and they refused, so when they left we broke into the warehouse. We can't kill ourselves."
There was stampede in the warehouse as the residents scrambled for the food items which were labeled 'CACOVID, NOT FOR SALE,' including mini bags of rice, macaroni, spaghetti, salt, garri, sugar and cartons of noodles.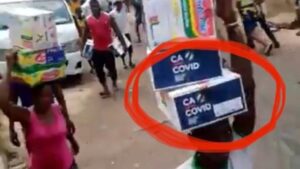 In a swift reaction, the Lagos State government condemned the vandalism of the warehouse at Maza Maza housing the food palliative packages donated to the state government by the Private Sector Coalition against COVID-19 (CACOVID) group.
According to the state's acting commissioner of Agriculture, Governor, Mr. Babajide Sanwo-Olu had on September 22nd 2020 formally taken receipt of the food palliatives from the CACOVID team meant for distribution to the indigent.
The state government noted that the warehouse in question was not state-owned and its usage was made available to the CACOVID group, adding that the state government had been allowed to commence re-bagging of food items allotted to it from the quantities meant for South- West states.
The commissioner said the re-bagging was being done to account for each beneficiary receipt, as was required and monitored by the CACOVID team, Leadership newspaper reported.