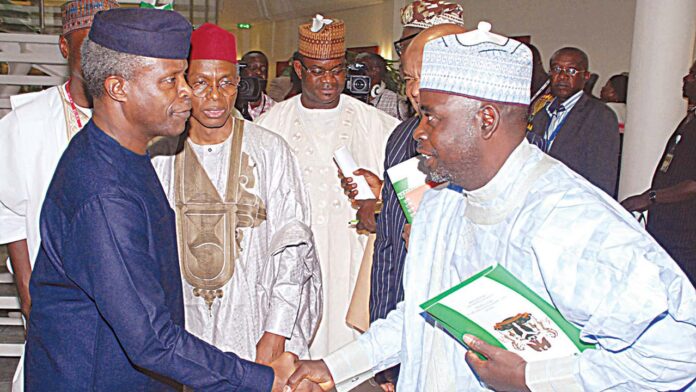 By Sanmi Obasa
Nigerian government officials at federal and states level are often heard making passionate presentation about doing everything possible to make it easy for investors and entrepreneurs to carry out their activities of producing and growing the economy. In this mode, they cast a genuine desire to achieve the growth objective of monetary and fiscal policies.
The term or phrase they often use is 'ease of doing business in Nigeria'. They also sometime use the phrase "creating the enabling environment". From this background it is assumed they really know and appreciate the term ease of doing business or creating enabling environment for enterprises; which are the real engine of economic growth and development. Do they really know? Do they really conceptualize it within the environment they are operating from?
Capital is the engine oil, the blood that fosters the economy. But capital has choice. It only goes to where there is profit to be made. If it's therefore constrained by any circumstances, most especially policies, it will adversely select such discriminating economy. Because of its importance, governments that covet real growth and development do everything to appease capital. And that is where ease of doing business or creating conducive atmosphere for investors emanated from.
When capital has completed its evaluation of the market/economy and it is convinced that profit will be made without much hindrance, businesses/enterprises are opened and begin to flourish.
It beholds therefore that a policy maker must have an understanding of his or her policy in order to effectively implement. It is tantamount to knowing the truth for the truth to set one free. This is where lies the problem with Nigerian officials who parrot 'ease of doing business' but has no connection with its ideals.
To enunciate ease of doing business, we firstly must come into term why business. We must know that the whole economy at the micro level is about the firm or business as the unit of production and that no production can take place without the firm. And if there is no firm and no production there can't be employment, income, growth and development. With business and the concomitant production there will be tax revenue to governments that will pave the way for continuous investment on infrastructure and social projects and programmes.
While the above fact can be comprehended by government officials in other countries it may be hard for a Nigerian government official to appreciate. Reason being that a typical Nigerian government official has always eternally known that job and income come from the government and oil money. The Nigerian government official has never connected microeconomic role of firms and households to economic growth, prosperity and development. The Nigerian government official is a macroeconomic thinker of the government as the godfather and Santa Claus of everybody, who gives jobs and money, develop infrastructure, etc. Such a macro thinker may not be able to appreciate the real value of ease of doing business.
On the other hand, if we understand and agree that capital/business is the producer of products/services, employment, income, taxes, growth and development, our attitude to its needs and requirements will change positively. For example, if we know that capital uncompromisingly desires profit and will not move without it, we will remove every obstacle that will prevent it from attaining that goal.
Hindrances to profit goal of capital includes, uneconomic interests charged by Nigerian financial institutions, prohibitive fees by financial markets, taxes and tariffs, lawyers, accountants, engineers and the legion of security forces at our ports and borders, etc.
At the heart of the Nigerian government official's inability to understand what ease of doing business and its real application is, is the structure of the Nigerian economy and state. Nigeria doesn't operate like the normal economy. The Nigerian economy is based on oil revenue being shared by the federal, states and local governments.  Everybody and activity in Nigeria depends on the oil money. For example, the bank doesn't need to go through the route of the traditional demand deposit creation of money model to create its revenue and expenses. All a typical Nigerian bank has been doing is, attract deposit from one government ministry or any soft source. The minister and top officials of the ministry deposit the ministry money in the bank and the bank uses it as it likes because the ministry will likely spend less than 10% of the deposit on its obligations while the rest is embezzled by the officials.
The route to modernizing the Nigerian economy, making it responsive to policies and achieve economic objectives is for government to embrace full market economy in its entirety. What this means is, allowing the market forces to determine economic and even non economic activities. The economy must also be totally deregulated and privatized.
To fully realize the objectives of market economy, deregulation and privatization, Nigerian government must pursue true federalism and restructuring as being currently agitated for. Market economy, true federalism and restructuring are very critical in fashioning an economy that will generate employment, income, including poverty and corruption reduction. It's in this framework that real ease of doing business can be realized.
Sanmi Obasa is a research analyst, he teaches business studies at Centennial College, Toronto.