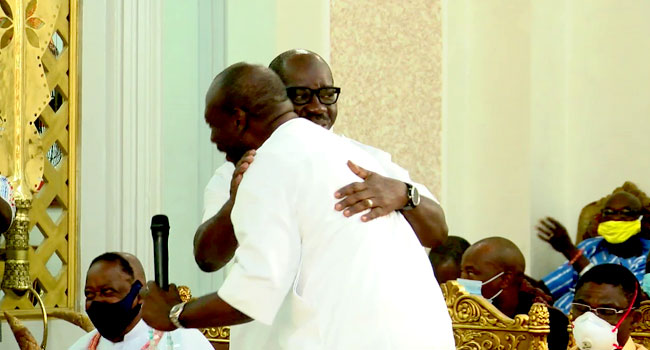 It's a rare scene as Oba of Benin, His Royal Majesty, Omo N' Oba N' Edo Uku Akpolokpolo, Oba Ewuare II, Wednesday delivered an uncommon homily to Edo State Governor and Peoples Democratic Party (PDP) governorship candidate, Godwin Obaseki, and the All Progressives Congress (APC) guber flagbearer, Osagie Ize-Iyamu.
The traditional ruler called on the two gladiators and their supporters to eschew violence and embrace peace and tolerance ahead of the September 19 gubernatorial election in the state.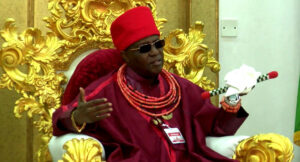 Oba Ewuare stated this in his palace in Benin City during a peace meeting he initiated with political actors to ensure a free, peaceful and violence-free gubernatorial poll.
The message came like a bombshell and the monarch communicated effectively by addressing the growing political fears and tensions in the state ahead of the forthcoming election. The message was essentially hortatory, placing higher moral obligations on Obaseki and Ize-Iyamu.
"For sometime now, Edo State has been in the news politically for the wrong reason as political gladiators have been fighting dirty with their war of words.
"I want assurances from you people, to me and the people of the state, of a peaceful atmosphere in Edo State…
"Please don't turn the state into the city of blood. I appeal to the two gladiators and all politicians to ensure peace and stop the shooting and violence in the state.
"Let there be peace in Edo. Let us have a good relationship like that of former President Goodluck Jonathan and President Muhammadu Buhari. We are begging all the political gladiators in Edo to give peace a chance; don't kill yourselves; stop the bitter statements to each other.
"Your home and families are here, so give peace a chance. We are all afraid that the state will burn to ashes. Please we need peaceful election in the state. I want to see that you are not paying lip service to the traditional throne; the Benin throne is not partisan.
"I am entitled to a vote; it's my right as a citizen to vote, but I can't vote for one candidate, because it is just like I have already taken sides by voting for one person; this is the sacrifice I have to make to ensure there is peace in Edo.
"Please communicate this meeting to your foot soldiers that they should stop the shooting and ensure the state is peaceful for all. I want both of you to work together for a peaceful election," Oba Ewuare said.
The monarch has well spoken and it's incumbent on the two leading candidates to ensure peaceful election come September 19.
Responding to Oba Ewuare's homily, Obaseki expressed gratitude to the monarch for his fatherly role in ensuring that the state remains peaceful before, during and after the election.
According to him, "As the Executive Governor and Chief Security Officer of the state, I have sworn to uphold the constitution of the Federal Republic of Nigeria and protect the lives and property of our people.
"I will never encourage violence as it would be irresponsible of me to do anything which would lead to breakdown of law and order in the state.
"I am not a violent person; I don't have such tendencies. I have not participated in any form of violence and I will not. I have committed enough resources to ensure safety of the citizens."
It's also an opportunity for Ize-Iyamu to reiterate his party's commitment to a peaceful electoral process.
"As a goodwill gesture, I warmly embraced Governor Godwin Obaseki during the peace meeting summoned by our father, Oba n'osa, Oba Ewuare II. Violence has no place in democratic elections.
"I am grateful to our father, the Oba of Benin, Oba Ewuare II, for his fatherly intervention and timely call for peace.
"We have heard his candid message, and we, the APC, will continue to maintain our peaceful approach and rally the people, across party lines, to shun divisiveness and respect the laws guiding the electoral process. We are one people and politics cannot divide us. Ovbi'Oghonwan nei bun aro – Oba gha to kpere, ise!"
The meeting was also attended by two former National Chairmen of APC – John Odigie-Oyegun and Adams Oshiomhole, among others.
Idowu Sowunmi