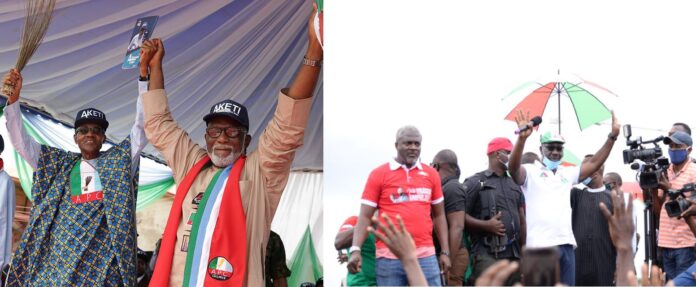 The Independent National Electoral Commission (INEC) says it is concerned about the tendency for voter apathy during the forthcoming Edo and Ondo states governorship elections.
This concern was expressed by INEC's National Commissioner and Chairman, Information and Voter Education Committee, Festus Okoye, during a virtual workshop on the commission's communication policy.
READ ALSO:
Video: Another 'Trade War' is Brewing Between Nigeria and Ghana
The National commissioner noted that INEC fears that there might be difficulties to get voters focus on electoral matters due to uncertainty surrounding Coronavirus pandemic.
Okoye stated further that the fears of the electoral commission is that the nation is at a time when the dominant issues people are paying attention to is the Coronavirus and the protocols on how to manage it.
"It is difficult communicating internally and externally, when individuals and groups are facing existential challenges occasioned by a pandemic. It is difficult getting individuals, groups and organisations to focus on the conduct and management of elections in a period of fear, anxiety or worse.
"It is difficult getting people to focus on elections and electoral matters, when there is looming danger that they may be out of job or already out of work or are in Internally Displaced Persons Camps or in a period of uncertainty. Communicating what people may see as non-essential service in a period of a pandemic or uncertainty requires a new form of capacity and skill. It requires new thinking and new methodologies and strategy", he said.
Okoye however assured that INEC is committed to deepening the use of technology in the electoral process, which is why the commission introduced the INEC party nomination portal; election observer accreditation portal and media accreditation portal.
He explained further that that with a view on transparency as per result transmission process, the commission has developed and deployed the INEC result-viewing portal containing Forms EC8A uploaded for the public to view.
READ ALSO:
Amaechi gives contractor 5months to complete Nigeria's $1.6b Lagos-Ibadan rail
"We at the Commission will continue to deepen our knowledge of global trends in election management and communication. We will continue to enhance our knowledge of electoral issues and processes. We urge the media, civil society groups and relevant stakeholders to join in deepening the use of technology in the electoral process," Okoye added.