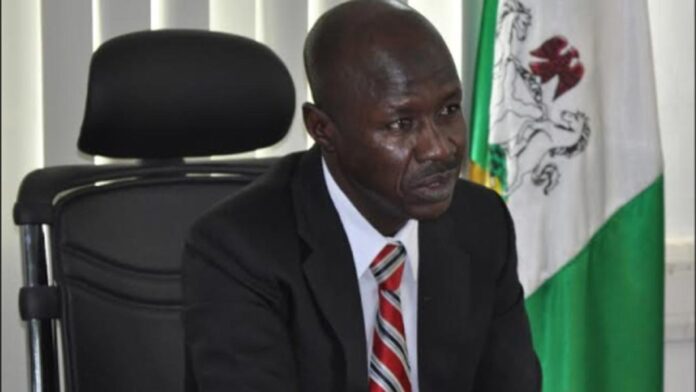 A Deputy Commissioner of Police (DCP), Mohammed Umar, has been appointed as Acting Chairman of the Economic and Financial Crimes Commission (EFCC).
The appointment of Umar by President Muhammadu Buhari comes after Ibrahim Magu, who is being investigated for alleged corruption, was suspended.
Recall that the Minister of Justice and Attorney General, Abubakar Malami had In his petition against Magu recommended to the President three candidates to replace the now suspended Acting Chairman, Umar's choice as Acting Chairman is a deviation from that list.
Mohammed, who, until his appointment, was the Director of Operations at the anti-graft agency, resumed duties yesterday, Wednesday.
The presidential probe panel headed by Justice Ayo Salami, is specifically looking into sundry documents and meeting with persons connected to the case at the Banquet Hall of the Presidential Villa, Abuja.
Reports have it that access to the premises of where the probe panel is sitting was heavily guarded by operatives of the Department of State Services (DSS).
However, the Peoples Democratic Party (PDP) has demanded that the Federal Government immediately begin prosecution of Magu.
The party, in a statement by its National Publicity Secretary, Kola Ologbondiyan, yesterday, observed that the alleged diversion of recovered funds and fraudulent sale of assets seized by the EFCC among other forms of sleaze, as detailed in the memo by the Attorney General and Minister of Justice, as well as the DSS report on Magu's activities, further exposed the racket that the fight against corruption had become under the All Progressives Congress (APC) government.
It stated that Magu's indictment reinforced its position that the hyped corruption war by the EFCC under Magu had been a huge scam.
Also, an arm of the party known as the Peoples Democratic Party Youth Alliance (PDPYA) called for immediate resignation of Vice President Yemi Osinbajo for his involvement in the case. Magu, who is under probe on a 22-count charge of fraud, alleged that he gave N4 billion out of the N39 billion he recovered to Osinbajo.
In a release made available to newsmen yesterday, Kalu said the development was clear evidence that the President Muhammadu Buhari administration had only been paying lip service to the corruption fight.
In the same vein, former governor of Ekiti State, Ayodele Fayose, has asked security agencies to tighten the noose around Magu, for him not to escape. Fayose yesterday called on the DSS, the police and other security agencies to place the suspect on the country's watch list, so that he would not disappear into thin air.
This is just as the Civil Society Legislative Advocacy Centre (CISLAC) called on the panel to be thorough and fair in its investigation. According to the Executive Director, CISLAC, Auwal Musa (Rafsanjani), while it is unclear what the real issues are, "CISLAC is concerned about the conflicting signals it sends to Nigerians. Being that Magu heads a very sensitive position in a government agency tasked with the investigation of financial crimes, it is thus pertinent that the case be handled with all diligence and transparency to ensure that the gains in the fight against corruption are not lost in the battle for supremacy and political advantage."