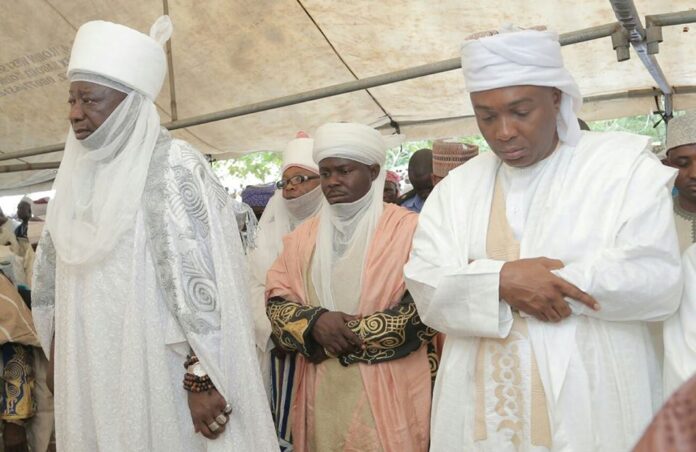 Former Senate President, Dr. Abubakar Bukola Saraki has stressed that it is important for Muslim faithful to avoid huge gatherings and other conduct which may lead to the spread of Covid-19 as they celebrate Sallah.
In a statement issued by his Media Office in Abuja on Thursday, Saraki, while he felicitated with Muslims across the country on the celebration of this year's Eid-el-Kabir festival, canvasses adherence to COVID-19 regulations.
"We should also stick to the use of face masks, wash our hands from time to time, apply hand sanitizers and maintain physical distance. This is important to avert a situation where after Sallah, there would be increased cases of people infected with the virus", he stated.
The former lawmaker called on Muslims to pray for the unity, development and security of Nigeria because the nation is facing many challenges which pose serious threat to her unity and progress.
He also noted that citizens need to rededicate themselves physically, spiritually and intellectually to the cause of saving and serving the country.
He added that a period like that of Eid-el-Kabir, a season of sacrifice and demonstration of faith, provides an opportunity for such renewal of patriotism.  The Eid-el-Kabir festival, he stated, symbolizes the voluntary obedience of Prophet Ibrahim (ASW) to the commands of Allah and the demonstration of his faith in his maker.
He urged Muslims to also remember that Allah commands them to obey the laws of their land, comply with lawful directives from the government of the day, live in peace with their neighbours and commit their affairs into the hands of the ultimate controller.
"There is no time that we need to demonstrate all the lessons of Eid-el-Adha than now. Apart from the economic and security problems, the unique challenges imposed on our environment by the Covid-19 pandemic demand that we all work together to reduce the spread of the virus, maintain peace in our society and help to channel the lean resources of state to funding of priority issues.
He urged Muslims to use the Sallah period to intensify prayers  for the country. "We should seek for Almighty Allah (SWT) to heal her, restore full security, prosperity, peace and strengthen her unity. We should pray for victory for our soldiers fighting against insurgency and banditry in different parts of the country and protection for our health officials on the frontlines striving to prevent the spread of Covid-19 across the country", Saraki stated.