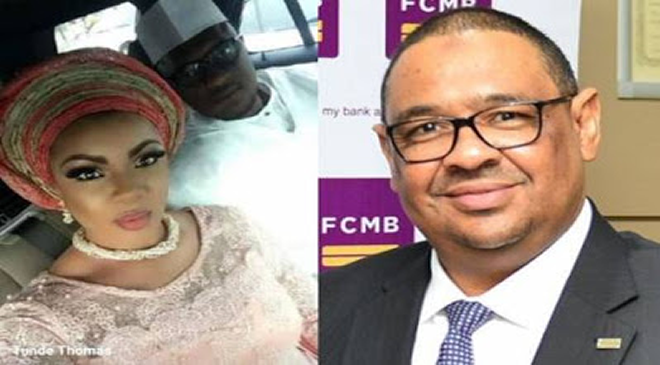 To protect its image in view of the ongoing allegations of extramarital affairs with an ex-staff of the bank, First City Monument Bank (FCMB) has announced that Yemisi Edun would act as Managing Director/Chief Executive Officer, while the embattled Adam Nuru would proceed on leave.
"In line with normal corporate practice, Mrs. Yemisi Edun is Acting as the Managing Director of FCMB in the interim period, while Mr. Adam Nuru is on leave.
"She (Edun) has not been appointed as the substantive Managing Director," said a statement by the bank's management.
It would be recalled that Nuru has been embroiled in an extramarital crisis involving a former staff of the bank, Moyo Thomas and her late husband, Tunde Thomas.
READ ALSO:
Lagos Govt Makes U-turn on Resumption of Schools Below Tertiary Level
Edun holds a first degree in Chemistry from University of Ife, Ile-Ife (now Obafemi Awolowo University) and a Master's degree in International Accounting and Finance from University of Liverpool, United Kingdom.
She is a Fellow of Institute of Chartered Accountants of Nigeria and a CFA Charter holder. She is also an Associate Member of Chartered Institute of Stockbrokers; an Associate Member of Institute of Taxation of Nigeria; a Member of Information Systems Audit and Control, U.S.A; and a Certified Information Systems Auditor.
READ ALSO: Nigerian Opposition Figure Sells $100m Intels Shares, Blames Buhari-led Govt for Woes
The acting managing director began her career with Akintola Williams Deloitte (member firm of Deloitte Touché Tohmatsu) in 1987, with main focus in Corporate Finance activities.
Edun joined FCMB in year 2000 as Divisional Head of Internal Audit and Control before assuming the role of Chief Financial Officer of the bank and now as the Managing Director/CEO.
Idowu Sowunmi