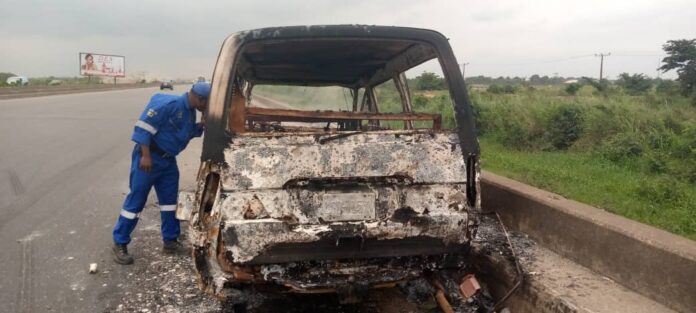 One person has died in a fire accident involving a commercial bus on the Long bridge inward Arepo, Lagos-Ibadan expressway.
The Lagos State Emergency Management Agency (LASEMA) announced in a statement Monday evening, and which was sighted by Echotitbits.
READ ALSO:
Sanwo-Olu disapproves truck-parking on Apapa road, says Lekki port'll ease congestion
"The incident which involved a commercial vehicle with registration number LSD-715XV gutted by fire along the Lagos-Ibadan Expressway, claimed the life of a yet-to-be identified passenger that was burnt beyond recognition, injuring several others who were rescued by Police and FRSC Officers, while the LASEMA Response Team recovered the burnt vehicle off the road to ensure smooth vehicular activities in the axis."
LASEMA, according to the statement, said its action was on the heels of the continued collaboration between Lagos and its neighbouring states in tackling emergencies to ensure safety of lives and properties.
The agency added that the cooperation between states led to LASEMA's activation of its response team, Tiger Squad to the incident scene at the Long bridge inward Arepo, when the agency received a distress call on a burning vehicle.