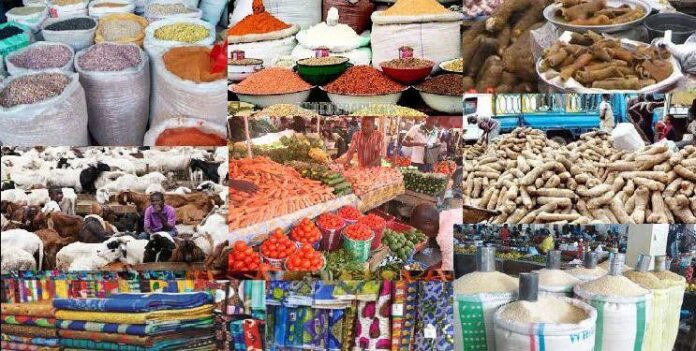 Prices would trend down soon – Buhari appeals for calm
CBN Governor, Emefiele expresses hope, blames fiscal measures
Inflation rate in Nigeria has spiralled up to hit 13.22% as the end of August, a record that broke a 29-month moving average.
The Consumer Price Index (CPI), which measures prices of goods and services, released by the National Bureau of Statistics (NBS) on Tuesday revealed that the 13.22 percent is 0.40 percent points higher than the 12.82 percent recorded in July.
The CPI stated that inflation rate rose by 1.34% on a month-on-month basis, indicating they August inflation rate was the highest since April 2018.https://echotitbits.com/poultry-farmers-demand-total-ban-on-importation-of-poultry-products/
READ ALSO:
Poultry Farmers Demand Total Ban on Importation of Poultry Products
Year-on-year inflation rate declined from 13.34 percent in March 2018 to 12.48 percent the following month. It had remained between 11 and 13 until last month.
According to The Guardian, data contained in the CPI report showed that the food category recorded 17.3 percent to emerge as the item with the highest price increase in the year. The prices of imported foods increased by 16.6 percent in the period.
Furthermore, items such as – food, imported food, footwear/clothing, transport, health, communication, education, restaurant/hotels, food/non-alcoholic beverage, recreation/culture, furnishings/household, equipment,, maintenance, housing, water, electricity, gas, other fuel and alcoholic beverage, tobacco, kola, as captured by CPI basket within the 12-month period reviewed experienced decrease in prices (deflation).
The CPI stated further in its review that year-on-year inflation in urban areas moved from 13.40 percent in July to 13.83 percent in August while month-on-month increased from 1.27 percent to 1.40 percent.
in rural areas, year-on-year inflation rose from 12.28 percent in July to 12.65 percent in August while as per month-on-month, it rose up slightly – from 1.23 percent to 1.27 percent.
States that led the pack being above national average in food inflation as at August 2020 were Kogi, Kwara, Edo and Delta, with 22 percent, 19.1 percent, 19 percent and 17.9 respectively. In the North, Gombe, Kano and Bauchi experienced lower than the national average.
However, Nigeria's leader, President Muhammadu Buhari in his reaction to current food price hike across the country appealed to residents for calm.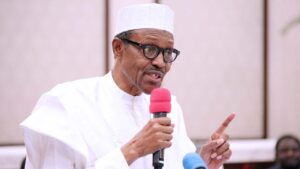 President Buhari, at the yearly Chartered Institute of Bankers of Nigeria (CIBN) Conference in Abuja, which he declared opened, assured Nigerians that prices would trend down soon
The president, represented by the Minister of Finance, Budget and National Planning, Mrs. Zainab Ahmed said: "Amidst the uncertainty created by the pandemic, we're confident that the Nigerian economy will bounce back strongly within the near term with the right policy responses to the multidimensional crises.
"Since we cannot simply wait for things to get better on their own, we have to formulate appropriate policies and implement them steadfastly to address the challenges head on", the President said.
Giving account of efforts to mitigating the economic challenges occasioned by the COVID-19 pandemic, the President explained that so far, the Federal Government had implemented a wide range of fiscal, prudential and monetary measures that squarely addressed four key necessities.
He said government is ensuring sufficient liquidity, in part to support its programmes for saving lives and livelihoods. He listed others to include maintaining stability of the financial system, ensuring continued delivery of financial services to the public, and shoring up confidence to cushion economic activity.
Also speaking at the conference, the Governor of the Central Bank of Nigeria [CBN], Mr. Godwin Emefiele expressed hope for price moderation, just as he blamed the increase in prices to some fiscal measures adopted recently.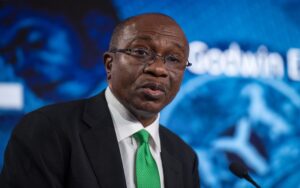 He gave a historical perspective to the inflation trajectory in the country in the beginning of the first quarter of 2020 and response action taken by the apex bank to hedge the trend.
READ ALSO:
Vacate Marina Coastline Now, FG, Lagos Govt Direct Barge Operators
"Inflationary pressure persisted in the first and second half of the year due to several factors.
"In addition to the disruption to global and domestic supply chains as a result of COVID-19, inflation was exacerbated by the increase in VAT rate, exchange rate adjustment and seasonal food supply shocks due to the onset of the farming season and other structural bottlenecks.
"Inflation in July 2020 stood at 12.8 percent. We, however, expect inflation to begin to moderate towards the end of the fourth quarter, as we approach the harvest season, along with the phased withdrawal on restrictions of movement and other measures imposed as a result of COVID-19", CBN Governor, Emefiele said.