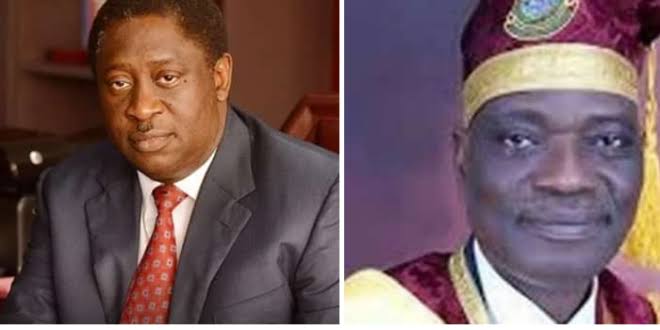 A University of Lagos (UNILAG) Senate Representative in Council, Bola Obho has in a statement sighted by Echotitbits, berated Dr. babalakin saying "the University has been stepped on and ridiculed".
Oboh, in the statement accused Babalakin of not following laid down procedure for removing a VC
According to her: "Babawale Babalakin, the ProChancellor waited for the tenure of Prof. Chukwu and Prof. Familoni to end, to call an Emergency Council meeting.
"Based on the Dagari report, without allowing the VC defend himself, the ProChancellor called for a vote for the removal of the VC. I (Prof. Oboh), Prof. Odukoya, Prof. Leshi and John Momoh voted against the removal of the VC.
READ ALSO:
Babalakin-led Governing Council sacks UNILAG Vice Chancellor, Prof. Ogundipe
"Six persons (excluding Babalakin) voted for Babalakin then went ahead to announce the removal of the VC.
"Dear Senate members, the procedure for removal of persons in office is clear and this was pointed out to Babalakin several times but he turned deaf ears.
"He said he will announce the Ag. Vice Chancellor at 5pm. I have excused myself that I need to report to Senate members the shameful act currently ongoing. Please let us arise to fight this, Oboh's statment read.
In the same vein, the controversially 'sacked' Vice Chancellor of the University of Lagos (UNILAG), Prof Oluwatoyin Ogundipe, says he remains in office, thereby faulting a decision earlier made by the institution's Governing Council led by Pro Chancellor Dr. Wale Babalakin.
On Wednesday, it was gathered that seven members of UNILAG's Governing Council at a meeting that held in Abuja, voted for the Ogundipe's removal, while four was said to have voted against his removal.
In a statement he personally signed, Ogundipe, who has been at loggerheads with the Pro Chancellor, Babalakin, reacted hours after the news of his sack rent the air.
READ ALSO:
Akeredolu inaugurates Amotekun in Ondo, tasks FG on more police funding
"The attention of the University of Lagos (Unilag) management has been drawn to the 'Notice to the General Public on the Removal of the Vice Chancellor, University of Lagos'; dated August 12, 2020 and signed by Oladejo Azeez, Esq, Registrar and Secretary to Council, stating that the current Vice Chancellor, Professor Oluwatoyin T. Ogundipe, FAS has been removed from office with immediate effect.
"This is untrue and a figment of his imagination.
"Therefore, stakeholders of Unilag and the general public are advised to disregard this mischievous disinformation about the sitting Vice Chancellor of Unilag, contained in that notice.
"Professor Ogundipe still remains Unilag's Vice Chancello, the statement read.