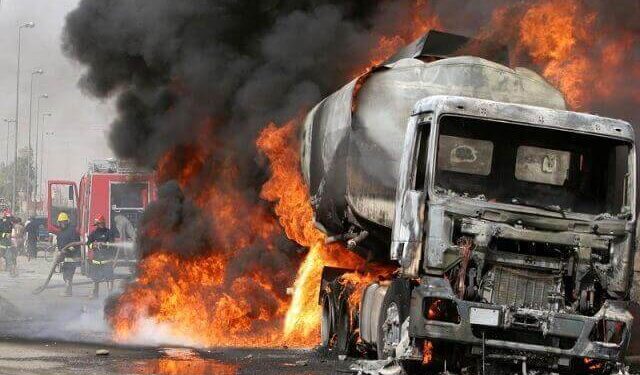 At least 16 persons are critically injured in a gas tanker explosion that occurred in the Iju-Ishaga area of Lagos on Thursday.
The accident, which also left scores of building and cars destroyed, was confirmed by the Director-General of the Lagos State Emergency Management Agency, Dr Olufemi Damilola Oke-Osanyintolu, who spoke to Channels Television.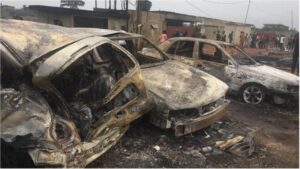 Oke-Osanyintolu said efforts are being made by his men to put out the resulting fire from the explosion with support from the Lagos State Fire Service, the Nigeria Police Force, and the Nigeria Security and Civil Defence Corps.
While narrating the ugly incident to Channels Television, LASEMA's Director of Operations, Engr Olatunde Akinsanya said the 16 injured persons have been taken to the Iju Water Works clinic.
Akinsanya said an unknown truck conveying gasoline had a lone accident and exploded at about 3:30pm.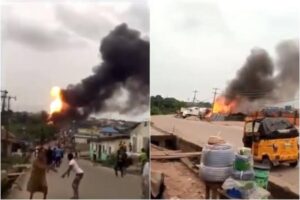 The tanker was supposed to off load its content at a gas station, but the station's owner reportedly refused to allow him because a seal had been broken, indicating that the content had been tampered with.
Enraged by the refusal of the station manager to off load the content in his tanker, the driver moved out of the premises.
A few meters away from the gas station, the front tire of the tanker burst and the gear box struck the ground causing a spark which led to an explosion when it came in contact with gas that was leaking from the tanker.
The vehicle ended in a ditch, where a second explosion erupted.
READ ALSO:
LASEMA averts explosion, recovers burning 46,000-litre full fuel tanker Intact
Eyewitnesses told Channels Television that the second explosion sent the tanker flying and destroying buildings in its path, including a church.
The impact of the explosion spread about 300 radii from the scene of the incident, the LASEMA official said.
It was not yet clear at the time of reporting this story whether the driver of the tanker was still alive as he seemed to have sustained third-degree burns.
In a statement obtained from the emergency agency's Twitter page by Echotitbits, LASEMA said: "The impact of the explosion led to fire on adjoining buildings and several vehicles burnt," the agency said. "Several persons were injured and have been taken to the nearest hospital for treatment".
Channels Television