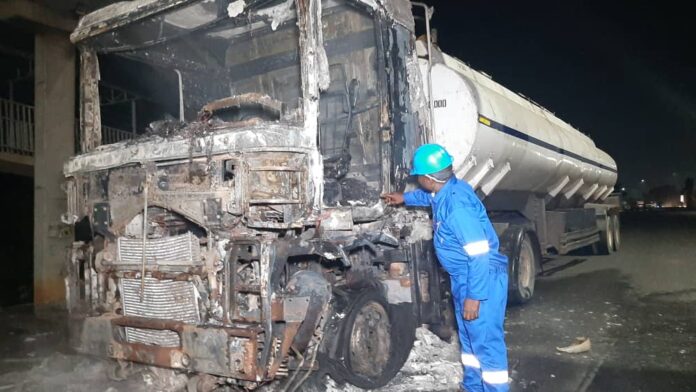 The Lagos State Emergency Management Agency (LASEMA) says it has successfully extinguished fire which gutted an oil tanker at the Secretariat Bus Stop, Ikeja in the early hours of today.
In a statement by the agency's Director General, Oluwafemi Oke-Osanyitolu, on Saturday LASEMA's Response Team responded to the distress call at 1:17am and recovered the tanker, which was fully loaded to capacity of 46,000 litres of fuel intact.
Osanyitolu noted that the incident recorded no loss of lives, nor injuries, while the over two-hour operation lasted in the battle against the burning truckhead in order to curtail the fire and stop a highly probable explosion.
"While the LASEMA Response Team successfully recovered the gutted Petrol Oil Tanker without any human loss, the feat was achieved without further loss of properties nor damages, with the full content of 46, 000 litres of fuel salvaged intact, at the Secretariat Bus Stop through deployment of its heavy duty equipment, the Super Metro and support of men of the Lagos State Fire Services and other stakeholders", he said.
The LASEMA DG added that the remains of the gutted oil tanker was safely recovered off the road to avoid any secondary incident, while also restoring the road to normalcy for vehicular activities.
Photos: