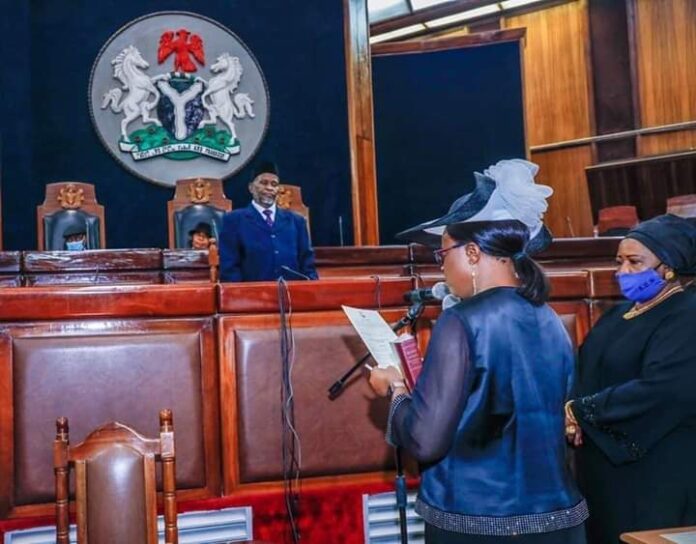 Idowu Sowunmi
Justice Monica Dongban-Mensem was Friday sworn in as the 7th substantive President of the Court of Appeal by the Chief Justice of Nigeria (CJN), Justice Tanko Mohammed.
Speaking during the swearing-in ceremony which took place at the Supreme Court Complex in Abuja, Mohammed charged Dongban-Mensem to uphold the credibility and integrity of the Appellate Court.
CJN tasked the new president to live up to expectations and ensure a very cordial relationship with her colleagues on the bench of the Court of Appeal.
Noting that the Appellate Court has the largest number of Justices in the Nigeria, Mohammed urged Dongban-Mensem to always uphold her good character, behaviour and hardwork.
"From my personal experience, workload in the Court of Appeal, especially in the divisions is the highest. It is a home of work. It is a home of cooperation. But with your experience, hard work and zeal, you will not find your new status difficult.
READ ALSO: FG makes u turn, says domestic flights can't resume june 21
"If you sustain your good character and conduct, your tenure will definitely be an excellent one. Try to be yourself and do not allow others derail you. Remain what we know you for," Mohammed said.
In her remarks, Dongban-Mensem, who expressed joy over her confirmation as the substantive President of the Court of Appeal, promised Nigerians to do her utmost best in ensuring that justice is upheld at the Court of Appeal.
She assured to build on the legacy left behind by her predecessors.
The swearing-in ceremony was witnessed among other eminent personalities like Governors Aminu Tambuwal, Simon Lalong, Abubakar Bello and Abubakar Bagudu of Sokoto, Plateau, Niger and Kebbi states respectively.
The event was also witnessed by the National Coordinator for Special Marshal in Nigeria, Sini Titsi Kwabe, with some other Special Marshals.
Monica Dongban is an active member of Special Marshal, a volunteer arm of the Federal Road Safety Corps (FRSC).
Dongban-Mensem was born on June 13, 1957 to the family of M.B. Douglas-Mensem; a retired Appeal Court Justice.
She hails from Shendam Local Government Area of Plateau State. She got both her LL.B and LL.M degrees from Ahmadu Bello University in Zaria, Kaduna State.
She was a Visiting Lecturer on Press Law at Catholic Media Centre, Kaduna from 1988-1992 and Part-time Lecturer at University of Jos between 1989 and 1997.
From 1990-1993, Justice Dongban-Mensem served as Deputy Chief Registrar, Superior Courts and Protocol Affairs, and was appointed Judge, High Court of Justice, Plateau Judiciary from 1993-1996.
Dongban-Mensem transferred her service to the Federal Capital Territory (FCT) Judiciary in 1997, where she served until she was elevated to the Court of Appeal in 2003.
She was sworn-in as the Acting President, Court of Appeal, on March 6, 2020, by the Chief Justice of Nigeria.
READ ALSO: Breaking: Embattled Governor Obaseki formally joins PDP
Until this recent elevation, Hon. Justice Monica Dongban-Mensem was the Presiding Justice of the Court of Appeal, Enugu Division, and Life Member of Body of Benchers.
Her leisure is writing, reading, golfing ,  working with children, women and the elderly. She is a mother of four children and two grandchildren.