The embattled Governor of Edo State, Godwin Obaseki has formally joined the Peoples Democratic Party (PDP).
The Governor said in a statement just before 3pm on Friday that his decision to pitch tent with the PDP will advance his political ambition.
"I have officially joined the PDP to advance my ambition to seek re-election as Governor of Edo State. I, as always, remain committed to engendering good governance and sustainable development of our dear state", Governor Obaseki Stated.
Meanwhile, the Peoples Democratic Party has granted Edo State governor, Godwin Obaseki, and his deputy, Philip Shaibu, a waiver to fly the party's flag in the September 19 governorship election in the state.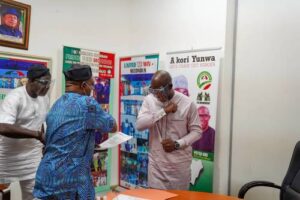 It was gathered that in an attempt to accommodate Obaseki and Shaibu, PDP leaders have pleaded with other aspirants vying to get the party' ticket to step down for the governor.
READ ALSO: Saraki welcomes Obaseki to PDP, says Oshiomhole has met his waterloo
A statement by the former Senate President and leader of the PDP, Bukola Saraki suggests that it took more than pleading to get Obaseki and his deputy a waiver to contest under the umbrella party.
While Saraki welcomed Obaseki to PDP, he emphasised how imperative it is to abide by deals and agreement made by all parties, which apparently formed the behind-the-scene transactions that gave Obaseki and Shaibu a smooth run to the umbrella party's governorship ticket.
"That is why my appeal will, at this point, go to all of us, the leaders and stakeholders, who gave assurances that agreement will be honoured, we need to ensure that the NWC of our party plays its own supervisory role by making sure that those agreements entered into by the Governor and the local chapter should be kept, particularly since I am very sure they are all lawful and in the interest of peace and development of the state. That is the only way to keep our integrity intact", Saraki emphasised.
Obaseki was disqualified by his former party, All Progressives Congress, from seeking re-election on the grounds that he possesses "defective academic qualifications."
He later announced his resignation from the APC and joined the PDP on Friday.