For the first time since Malian Soldiers staged a mutiny and executed a coup to topple the almost seven year administration of Ibrahim Keita on Tuesday, Nigeria's President, Muhammadu Buhari has called on the unconstitutional 'authority' in the landlocked Sahel nation to restore constitutional order forthwith.
President Buhari Thursday afternoon described the events in Mali as a setback for regional diplomacy, according to a statement posted on his verified Twitter page.
READ ALSO:
"The events in Mali are great setbacks for regional diplomacy, with grave consequences for the peace and security of West Africa. It is time for the unconstitutional 'authority' in Mali to act responsibly and ensure restoration of constitutional order, peace and stability", the President said.
President Buhari, who was among a delegation of leaders in the West African bloc that visited Bamako, the Malian capital on July 24 with the hope of a successful intervention to broker peace between Keita's government and opposition movement expressed fear that if sanity isn't restored in Mali, the peace of the region may be at risk. International allies such as France, the United Nations (UN), and the European Union (EU) have also expressed this sentiment.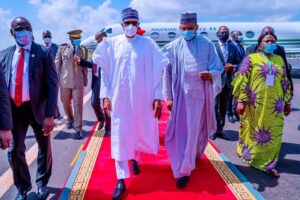 "Nigeria strongly supports the efforts of ECOWAS Chairman, President Mahamadou Issoufou, for wider regional and continental consultations with ECOWAS, the AU and the UN, and the adoption of strong measures to bring speedy resolution to the situation.
"A politically stable Mali is paramount and crucial to the stability of the sub-region. We must all join efforts, ECOWAS, the AU, the UN and other stakeholders, and work together until sanity returns to Mali with the restoration of Civil Administration, the President said.
At the peace talk meeting in Mali on July 24 were ECOWAS Special Envoy, former President Goodluck Jonathan, and leader of the opposition, Imam Mahmoud Dicko and representatives of opposition alliance, M5 and Civil Society Organisations, who all briefed the high power delegate that include President Muhammadu Buhari of Nigeria, host President, Ibrahim Boubacar Keita and Presidents Machy Sall of Senegal, Nana Akufo-Addo of Ghana and Alassane Ouattara of Cote d'Ivoire.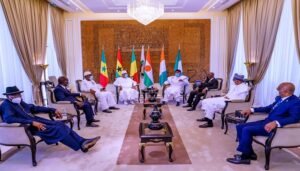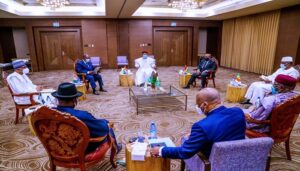 The coup in Mali happened only hours after former President Goodluck Jonathan, who is among a special ECOWAS envoy tasked with brokering peace in the troubled Mali, on Tuesday led the ECOWAS Mission team to Mali on a visit to President Muhammadu Buhari at the State House in Abuja, Nigeria's capital.
READ ALSO:
Mali Crisis: Ex-President Jonathan leads ECOWAS Mission to to Buhari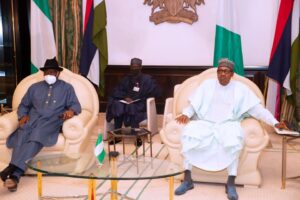 "We told them that no international organization, including the African Union (AU), United Nations (UN), and others, would agree with their position. We continued to emphasize the need for dialogue," Jonathan was quoted as saying while briefing President Buhari at the State House on Tuesday.
By Tobiloba Kolawole