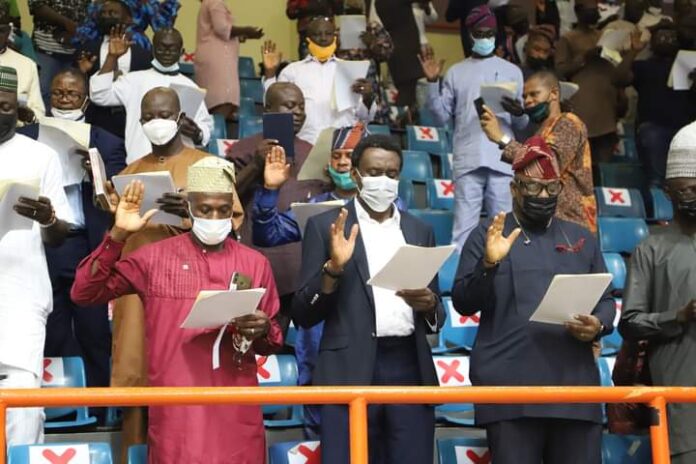 LASG has inaugurated the newly reconstituted Boards of Sports Associations in a brief ceremony on Wednesday, at the Molade Okoya-Thomas Indoor Sports Hall, Teslim Balogun Stadium, Surulere.
Speaking at the inauguration, the Honourable Commissioner for Youth and Social Development, Mr. Segun Dawodu urged the newly reconstituted Boards to elevate the status of sports in Lagos State by taking it to the next level.
He also revealed that three new Associations were added to the existing 40 Sports Associations in the State, bringing the total number to 43 with 277 individuals, as part of the Government's plans to reposition Lagos as the hub of Sports in Nigeria.
According to him, the new Sports Associations are Monopoly, (joined with Scrabble to form the Lagos State Scrabble and Monopoly Association), Lagos State Netball Association, Lagos State E-Sports Association and the Cheerleading Association.
Dawodu implored members of the Sports Association Boards to work assiduously and collectively in order to come up with series of sustainable programmes.
The Executive Chairman, Lagos State Sports Commission, Mr. Sola Aiyepeku, disclosed that the new Board members were painstakingly selected to refocus and change the face of Sports in Lagos State.
He stated that perception about Government being the sole financier of sporting events had to change, urging the new Sports Associations to work independently to source private sector financing and sponsorships for organising at least two sporting events per quarter.
The Director-General, Lagos State Sports Commission, Mr. Oluwatoyin Gafaar, charged the newly inaugurated Board members to develop, drive and sustain sports in Lagos State.
He gave an assurance that the Lagos State Sports Commission would give all the necessary support to make sports development at the grassroots in Lagos State a success, expressing optimism for tremendous improvement from all Associations.
Responding, Mrs. Abimbola Lawal, Chairperson, Lagos State Traditional Sports Association, also a member of the Board of Sports Commission, assured that all members would do their best to achieve the mandate given by the State Sports Commission.
The Chairmen of Sports Associations such as Athletics, Handball, Basketball, Taekwondo, Hockey, Gymnastics, Golf, Deaf Sports and Cricket retained their positions, while the Lagos State Football Association will adhere to FIFA Election Statutes to decide fresh members.