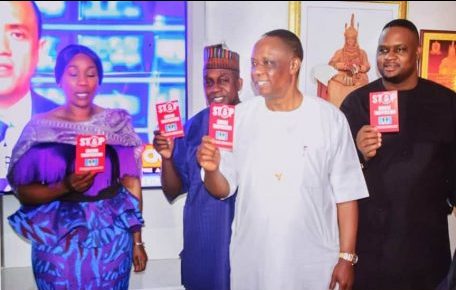 National Agency for the Prohibition of Trafficking in Persons (NAPTIP) has justified its choice of the Benin-born billionaire businessman, Hosa Okunbo, as its anti-human trafficking hero on the occasion of the 2020 World Day Against Human Trafficking.
NAPTIP, in a citation uploaded on the agency's website and social media handles on July 30, described Okunbo as a formidable individual in partnering with the agency by committing personal resources into the fight against the illicit business of human trafficking and illegal migration.
But, a group called Girls For Change, in a publication, faulted the agency's choice of Okunbo as its 2020 Anti-Trafficking Hero.
READ ALSO:
Update: Gov. Sanwo-Olu reopens Lagos worship centres Aug. 7, vows to monitor
Reacting to the group's assertion, NAPTIP justified its position, praising Okunbo's uncommon display of burning love, saying the philanthropist has empowered victims of human trafficking and particularly supported it (agency) to mark the 2019 World Day Against Human Trafficking.
"The group made all kinds of unfounded allegations against Captain Okunbo, which we believe he is more than capable of addressing.
"NAPTIP is a focused and professional public institution which does not involve itself in partisan politics.
READ ALSO:
Buhari congratulates Olumide Akpata as new NBA President promises better days
"The award to Captain Hosa Okunbo was strictly based on his valuable encouragement and support for the Agency in realising its mandate.
"We urge Girls For Change and other such groups to leave NAPTIP out of their petty political bickering," the agency said in a statement by its Head, Press and Public Relations, Adekoye Vincent.
Idowu Sowunmi