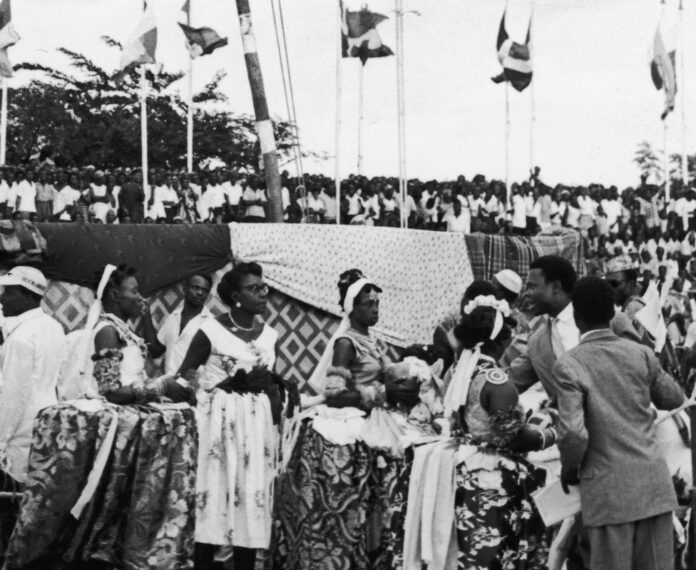 As Nigeria clocks 60 years of independence, amidst the struggle to come out from the shock of COVID-19 on its economy, and the recent impasse between labour and the Federal Government over the hike in petrol and electricity tariff, an assessment of the nation's progress in governance, politics and policy making starting from alleged Interference from international financial organizations such as the IMF, World Bank and AfDB is a good way to begin.
The first duty of any government is to ensure the security, both economically and socially, of its people. Any other consideration should be secondary. Primary duty, ensure that your citizens are comfortable, give them every opportunity to succeed, to have a good life, live a sustainable life, help their living standard. That's what every government should be bothered about. So when it comes to external influences it should be based on what your people would have to go through to achieve those demands or whatsoever. So it is worrisome that for whatever reasons government deals with international financial organizations, they would have to put Nigerians in a very difficult situation. Nigeria is currently adjudged, if not the nation with poorest people in the world. So with this, why would our leaders want to overburden its citizens with its many policies? Anti-people policies to state it rightly.
There have been several commentaries in the wake of the pandemic that serious nations would rather give palliatives to its people and this issue came up at the time anyway. So there were talks about how much would be given to whom and at what point would they determine who was going to get what? But of course we never heard anything about it again save for N20,000 that was said to have been given to some 10,695,360 individuals in 35 states across the country, the poorest and most vulnerable Nigerians they said; an exercise that was alleged to have been largely fraught with embezzlement. Does this government sincerely have the interest of Nigerians at heart? Sometimes that answer is mostly no. And it is not only under the Buhari-led government. If we look back, it's always been an endemic, where our government, the people in leadership only concern themselves about what they can get from governance and not what they can give to people, or a good legacy of comfort they can leave for the people. By all means, it is morally wrong for you to put your own people in a difficult situation and even worsen their pains just to gain favours from international financial organizations like the IMF, World Bank and AfDB.
A lot of people have insinuated that the leadership of the NLC has been infiltrated, have been bought and that that's why they are not really pressing to fight for more, for this injustice done by the Federal Government. Questions have been raised, asking should the NLC have gone ahead with the planned strike last Monday despite attempts by the FG to douse the tension.
Over time we've always had situations that caused us to believe that the NLC were infiltrated by government officials. However, if the NLC had gone on that strike action, it would have caused Nigeria, more so Nigerians billions of dollars, a loss that would further compound the effect of the coronavirus pandemic. It is believed that if the strike had held, many people, businesses, income would suffer. It would have caused untold economic hardship. Taking a positive look at it, at least a win. And what is that win? That is a backtrack on electricity tariff hike, where within two weeks as agreed by both parties, certain issues that are critical to the negotiations would have been dealt with. It is not just the right time for those hikes. For example, it is outrageous that electricity distribution companies (DISCOS) will not distribute meters to its customers but enforce estimated billing on them. To make the sore hurt even more, electricity tariff was increased. It behooves on the government and Discos to be alive to their responsibility firstly before any other expectations from the masses. They should live by example. So these are the conditions, government and their allies in the Discos should do the needful by not only providing meters but making electricity supply stable, and then we can look at tariff increase and how it would help the power sector and indeed the economy.
It is an obvious secret that the administration of President Goodluck Jonathan cheaply gave out the nation's power holding electricity distribution assets to their cronies.  Just as it had been prevalent over the years even up until October 1, 2020 when we celebrate Nigeria at 60, a trend is constant, and that is always vested interest, not the interest of the people, only theirs and that of their cronies, to the detriment of the larger population. It might not be wrong to assume that officials involved in the sales of the Discos have shares in these companies hence the hypocrisy that surrounds its operational policy. It is always about their interest. If anything, it is high time that a drastic action was taken to hold government to the jugular, look them in the face and demand accountability, to say "we put you there and you must do what we want, what we make us comfortable and not the other way round". Government should not overburden the people; it should rather get on to think on its toes and be creative.
How can the nation have non-working refineries for years, yet our leaders explore oil, export to Europe to refine and then import the refined product for Nigerians to buy? It is a big shame. How can you have hydro electric dams, yet we do not have power. It is unimaginable the lows we continue to sink to 60 years after independence.
The conversation around true federalism and restructuring is still ongoing. When you sum it up, one of the major problems of Nigeria is its foundational culture, attitude. When you take a careful look, one might not be far from the truth to think that the construct of colonialism had a great impact on our psyche including the way we behave as a people and to one another. We might not be certain what our attitude towards social growth and shared interests was before colonization. However, when you look at the idea or ideals of colonialism itself, it was about a philosophy to subdue and take for oneself. The British colonial construct, we would think left the shores of Nigeria in its entirety after relinquishing administration between 1960 and 1962. But we might be wrong to assume so, as it is probable that the British's philosophy of 'subdue and take' embedded in colonialism stayed with us.
If the ideals of colonialism was to subdue and take for oneself, that is about what we see play out at every level of our society. In an attempt not to paint this as solely a leadership problem and then drop the bag at their doorstep because leaders are just a small fraction of people who emerge from the larger society, they mirror the society's ills and good alike. More succinctly, the idea to subdue and appropriate for oneself seems to be the default act of most Nigerians. It is mostly about what I can take for myself only. The act of selflessness doesn't seem to preoccupy the minds of an average Nigerian. This very much feels like the basis of Nigeria's problems. We just want to amass for ourselves; we really don't care about the other person. So when you ask an average Nigerian on the street about taking leadership positions, you will be shocked the expectation would be to get to office and take care of him or herself at the expense of the larger society.
In essence, amongst other things, a restructuring of the mind, our value system first and foremost is crucial. When a people do not have a solid foundation as to what their values should be they would misbehave and act out of line. For example, the very first step a serious organization should take is to define their values, objectives, mission and goals. This is what guides the operational methods of the organization. But what is the value system of Nigeria and Nigerians, it is obvious, everyone to himself, herself, an attitude of taking for oneself alone. So a restructuring of the mind is crucial.
Recall in 2014, former President Goodluck Jonathan assembled a group of people from across the country for a National Conference- Confab, which he politicized and failed to implement. So while it is ok to give kudos to the Bayelsa-born ex-president for conceding defeat to Muhammadu Buhari in the 2015 general election, even though he had no choice but to leave power anyway, he would have left his footprint in the sands of time had he ensured that 2014 confab was in the best interest of Nigerians, not his reelection bid, and if he took a bold step to ensure that the outcome of the conference was debated and implemented. He lost a very big opportunity there.
The problems of Nigeria had started just about when it began its journey as an independent nation. The ethnic stresses, strife, mistrust, unhealthy competitiveness that currently hold us bound have been there since inception. For example, in 1963, the Mid West region was created with the aim of solving the purported imbalance thought to be a part of the root course of instability in the West at the time. Despite this, the ethnic stresses never abated, they are even much worse in the present time. Even within a political party, ethnic rivalry persists, approaching issues from the prism of ethnicity. So ultimately, we should achieve a restructuring of the mind, our value system, and every other salient issue that are important to us as peoples. Even in some religious teachings, there is a saying that: "can two work together except they agree"? So how can we live together peacefully, achieve development, except we sit together to agree? We need to have a restructuring of the mind, a restructuring of our value system, where we are going to as a people, our goals, mission, and importantly what we want to become together.
By Tobiloba Kolawole