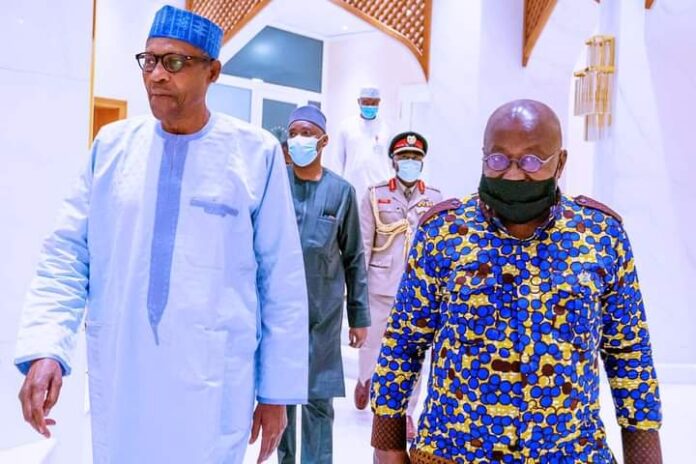 President Muhammadu Buhari on Sunday night met with the President of Ghana, Nana Akufo-Addo at the Presidential Villa, Abuja.
The meeting was confirmed by the Special Adviser to the President on Media and Publicity, Femi Adesina who posted pictures of the two West-African leaders walking side by side on his Facebook page.
READ ALSO:
Video: Another 'Trade War' is Brewing Between Nigeria and Ghana
Although, Adesina did not reveal the agenda of the meeting in his post, it is however believed not unconnected with heightened tensions between the two neighbouring Nations caused by the closure of shops owned by Nigerian traders in Ghana.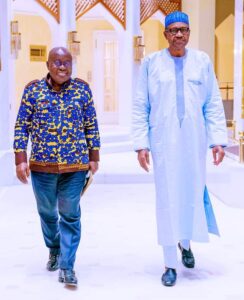 The trade tension compelled Nigeria's Minister of Foreign Affairs, Geoffrey Onyeama to summon Ghana's Charge d Affaires to Nigeria, Ms Iva Denoo for discussions.
Onyeama had also met with representatives of Nigerian traders in Ghana, led by Jasper Emenike, the National President of Progressive Ambassadors of Nigeria (PAN), and the organisation's National Director, Ruth Ango over the matter.
Recall Echotitbits reported that Speaker, House of Representatives, Femi Gbajabiamila visited Ghana on Sept. 2 with a view to seeing how the issues at stake could be resolved amicably.
READ ALSO:
Gbajabiamila's Legislative Diplomacy to Accra, Akufo-Addo Endorses Nigeria-Ghana Business Council to Resolve Trade & Investment Disputes
Speaking at a meeting with the Speaker of the House of Representatives, Femi Gbajabiamila, Akufo-Addo said a request by the speaker for a review of Ghana Investment Promotion Centre (GIPC) Act to make certain concessions was in order as it "makes a lot of sense".
The Ghanaian President, at that meeting promised to also raise the issue with President Muhammadu Buhari.