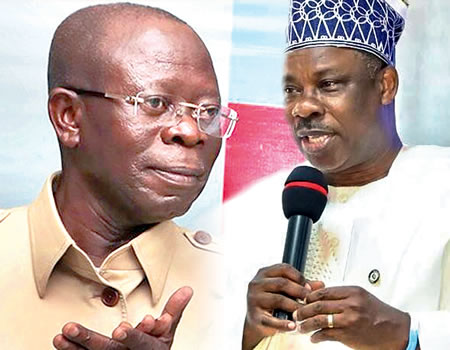 The All Progressives Congress in Ogun State has been advised to put its house in order so as not to scuttle its chances of winning the governorship seat in the state at the 2019 general elections.
A public relations professional Tope Adaramola warned in an interview that if political actors in the state and at the national level do not sheathe their swords the fortunes of the party at all elective levels might be affected drastically.
Adaramola who made this known in Abeokuta last Sunday called on Governor Ibikunle Amosun and the APC National Chairman, Adams Oshiomole to institutionalize the party and not allow their disagreement put the party in Ogun state in a difficult situation.
The political analyst also berated Governor Amosun who has been vocal about the situation. He said, "the other man in the person of Dapo Abiodun appeared to be more matured in his outlook and handling of the situation unlike the governor who has been throwing tantrums at every opportunity".
It is understandable that it is painful for the candidate of the governor to lose out against his plans and agenda, he should also know that the party is supreme and it is better to have power retained within the house than giving it to the opposition, ADC especially" Adaramola said.
While commenting on the consequence of the political imbroglio, Adaramola said that the APC is unwittingly strengthening the chances of Gboyega Isiaka of the ADC, a native of Yewa who had contested twice under the platforms of Peoples Democratic Party in 2011 and Peoples Party of Nigeria in 2015. He stated that if all issues are not resolved amicably the situation will whip up sentiments for Isiaka riding first on the Yewa agenda and secondly on public sympathy for coming out to contest for governorship at a record third time.
About two days ago, President Muhammadu Buhari had sent a reconciliation committee to the state who met All Progressives Congress (APC) state assembly candidates to resolve the crisis, which resulted from party primaries in the state.
The committee is headed by Hon. Sandra Oladele, who assured party members that all aggrieved parties would be reconciled.