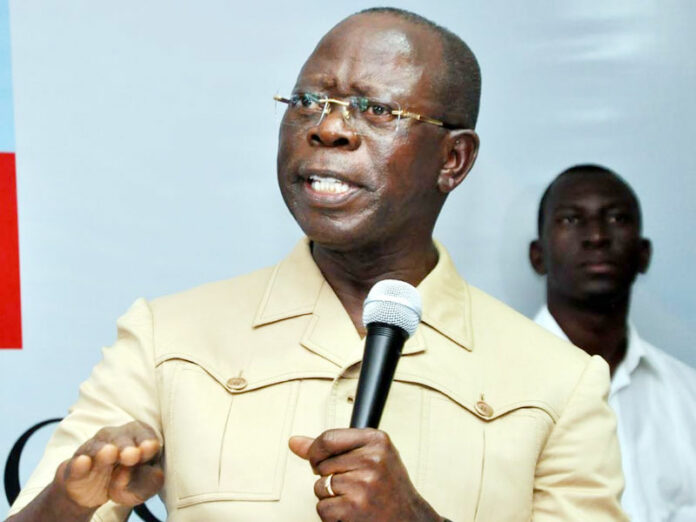 A former National Chairman of the All Progressives Congress (APC), Adams Oshiomhole, Monday met with President Muhammadu Buhari in State House, Abuja.
Speaking with journalists after his meeting with the President, Oshiomhole debunked allegations recently made by the Director-General of the Progressives Congress Forum (PGF), Salihu Lukman, accusing him of scheming to return as APC national chairman.
READ ALSO:
UNILAG VC spent unapproved N120m, his sack legal –  says Babalakin
Oshiomhole, who ia also a former Edo State Governor, described Lukman as a tool allegedly foisted on PGF as director-general by the Chairman of the Nigerian Governors' Forum (NGF), Kayode Fayemi.
According to him, "You want me to engage in a fight with a pig? If you engage in a fight with a pig, the pig already is stained by its nature and you will wear your white garment, and in my own case, khaki to go and wrestle with a pig? I will not.
"You see, what I want the media to interrogate, how does winning Edo State governorship election translates to returning as the APC national chairman. When I was removed as national chairman, Edo State was APC. So, do I have to win Edo State to become the national chairman? Do I look so unemployed? I'm 68.
"What they don't understand is that it is not the office of chairman that made me who I am.
"So, it takes an empty brain to suggest that Oshiomhole wants to stage a comeback to become the national chairman. For what? To go and do a resit?
"So, my attitude is not to reply the noise, which is coming from somebody who says he is an employee and appointee of Progressives Governors Forum.
READ ALSO:
African Development: Gbajabiamila pushes for debt cancellation, spearheads Conference of Speakers
"He is just like the cowards that are using him that are not able to come out. Otherwise, you should ask this guy, who is now an election expert.
"He contested for Senate against Makarfi, he lost. He even contested against Governor Nasir el-Rufai during the primaries and he lost before Fayemi unilaterally appointed him the DG.
"So, if he is now the spokesman abusing me and all of that, you want to drag me to his level? No!
"A gentleman does not wrestle with a pig, if you do you will always be stained", the self styled Oshiomhole said.
Idowu Sowunmi