The President Muhammadu Buhari-led Federal Government Saturday disclosed that it has named the operational hub of Itakpe-Warri Standard Gauge Rail Line located in Agbor, Delta State after former president Goodluck Jonathan.
The 320-kilometre rail line connecting three states – Kogi, Edo, Delta including the station buildings would soon be commissioned.
Though the rail line has since April 2019 been used for commercial operations, the construction of the 13 station buildings along the corridor is yet to be completed.
Inspecting the project at the weekend, Minister of Transport, Rotimi Amaechi, said the rail was ready for commissioning and may be commissioned by the President virtually.
Amaechi revealed that contractor handling the project, Julius Berger, has moved from the site, while China Civil Engineering Construction Company, (CCECC) is maintaining just a little presence, explaining what is left is for the contractors to handover to his ministry and the Nigeria Railway Cooperation (NRC).
The minister noted that NRC's Director of Rail, Baba Kobi, would double as the Managing Director for now until there's an arrangement to do the final inspection and take over from CCECC and Julius Berger.
"Today, we continued test-run of our new coaches on the completed Itakpe-Warri standard gauge rail line.
"We have named the largest station on this route – the Agbor railway facility and station – after former President Goodluck Jonathan," Amaechi said.
On the quality of work done by the contractors and the general maintenance of the facilities, the minister said: "When you see a good job, don't ask questions. The camera will show that this is a good job; this is the Goodluck Jonathan Agbor Station which incorporates the railway facilities.
"Julius Berger and CCECC teams have all done a good job. We expect NRC to take over from here and ensure proper maintenance.
"I don't want to come here in the next four, five years and it looks worn out. I have seen the toilet facilities they look good but typical of us, I hope in the next five years it will be intact because in Kubwa now, those things look worn out, if you break anything, replace it or repair it. I think we should learn to maintain the infrastructure that we inherit."
Photos: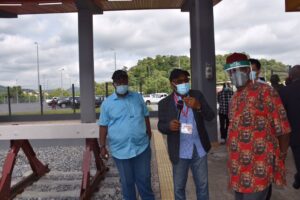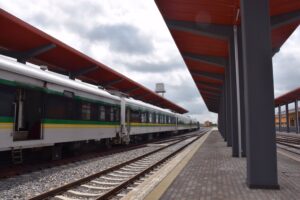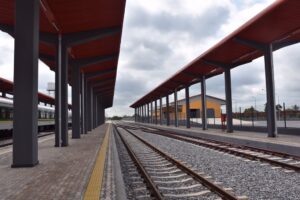 Idowu Sowunmi