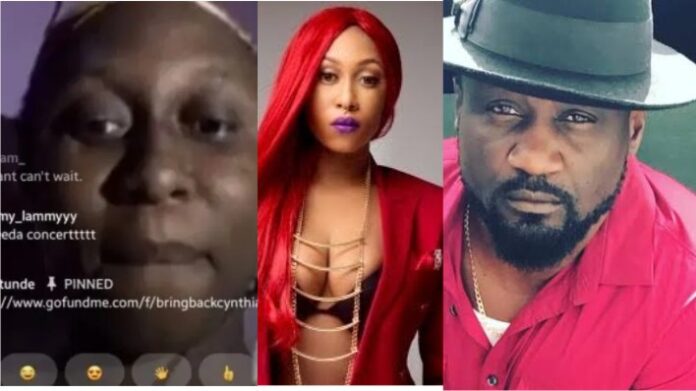 Cynthia Morgan, who was once a toast of music lovers has opened up on what she went through after a misunderstanding with the CEO of her former record label 'Northside Records, Jude Okoye.
Nigerian songwriter and singer, Cynthia Morgan opened a can of controversy when spoke for the first time on why she had disappeared from the entertainment scene.
The Hip Hop and dancehall crooner during an instalive chat with ex-Miss Globe Nigeria, Cassandra, accused her former Northside Record label boss,  Jude Okoye of being the cause of her ordeals.
Morgan, who in an attempt to re-brand for a comeback into the industry changed her stage name to Madrina, disclosed that she lost almost everything including stage name "Cynthia Morgan", her VEVO account, royalties, Instagram account and other things due to the contract she signed with Northside Inc records.
The singer also suggested that she had information that could wreck Jude Okoye but decided against such as it was unnecessary.
She further revealed that she became depressed thereafter and had to relocate to Benin to save cost for treatment of an illness that almost took her life.
On why she did not open up at that time, Morgan said she was not ready to talk as she believed it was a phase of life she would surmount. She however admitted that some of her colleagues in the music industry reached out to her for work, which she wasn't ready to get back to at the time.
In a twist, Morgan's former manager, Joy Tongo and Northside Inc record label boss, jude Okoye have debunked the singer's accusations. While Okoye claimed Morgan owed the sum of N40 million, and a default contractual agreement; Tongo on her part, accused Cynthia of seeking sympathy with her story.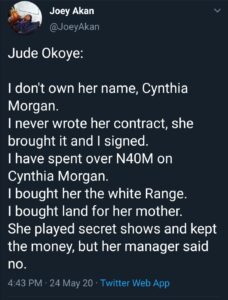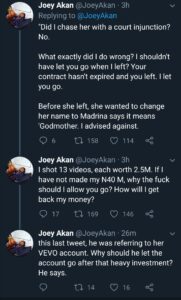 She also claimed Cynthia owed her $30,000 and confirmed Morgan owed Jude Okoye "over 40 Million". Threatening to reveal more of Cynthia's "dirt", Tongo disclosed that she introduced Cynthia to Jude Okoye.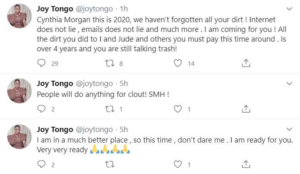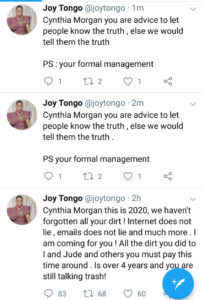 On her return to music, the singer said that she does not want to sign under a label anymore but open to partnerships and hoping to stage a comeback.
A GoFundMe account has been launched by her fans who expressed sympathy over "all she went through" with the hashtag #BringBackCynthinaMorgan.
However, pop singer, Davido has offered to assist Morgan stage a comeback into the music industry.