A suspect, Nehemiah Adejoh, who drove the car that ran over the female helicopter pilot, Tolulope Arotile, has said he killed her by mistake, Daily Trust has reported.
Narrating his story at a Kaduna Magistrate Court on Thursday, the suspect explained that he mistakenly ran over the deceased.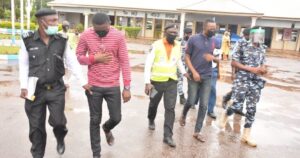 Adejoh was reported to be the one behind the steering of the vehicle that knocked down Arotile on July 11 before she was pronounced dead at the Nigerian Air Force hospital in Kaduna.
Appearing before a Kaduna magistrate court on Thursday, Adejoh noted that he never intended to kill Arotile.
He also denied having any premeditated plan to kill her in his cautionary statement.
He explained that on sighting the deceased walking along the roadside at the Air Force base, he started reversing the car in order to exchange pleasantries with her, but mistakenly ran over her.
The police have charged the suspect with culpable homicide.
The Chief Magistrate, Danjuma Hassan, has ordered the suspect to be remanded in prison pending further hearing.
The judge has, however, fixed October 3 as the day for further hearing.
Idowu Sowunmi