Pan-Yoruba sociocultural group, Afenifere says it suspects foul play in the death of Nigerian Air Force (NAF) first female combat pilot, 23-year Tolulope Arotile, whom authorities reported to have died "as a result of head injuries sustained from a road traffic accident at NAF Base Kaduna".
In a statement by the National Publicity Secretary of the group, Yinka Odumakin, Thursday, Afenifere accused the Nigerian Air Force (NAF) of being economical with the truth on how the young combat pilot died and therefore demands a coronner inquest into her death.  
READ ALSO: Photos: First female Nigerian Air Force combat helicopter pilot is dead
"A statement by the Nigerian Air Force told some truth that she died but spewed some untruth in saying that":
'it  is with great sorrow that the Nigerian Air Force (NAF) regretfully announces the unfortunate demise of Flying Officer Tolulope Arotile who died today, 14 July 2020, as a result of head injuries sustained from a road traffic accident at NAF Base Kaduna.‬', Afenifere quoted NAF.
The group expressed doubt about the sincerity of NAF because the detail of Flying Officer Arotile's death was only revealed by eyewitness account.
"It was only eyewitness accounts that unofficially released that it was a colleague of hers who reversed his car to knock her down on the road", the group stated.
READ ALSO: Buhari, Aisha mourn first female NAF combat helicopter pilot, Tolulope Arotile
Referring to NAF's statement on Arotile's death which stated that:
'Until her death, ‪Flying Officer Arotile, who was commissioned into the NAF in September 2017 as a member of Nigerian Defence Academy Regular Course 64, was the first ever female combat helicopter pilot in the Service.‬ During her short but impactful stay in the Service, late Arotile, who hails from Iffe in Ijumu Local Government Area of Kogi State, contributed significantly to the efforts to rid the North Central States of armed bandits and other criminal elements by flying several combat missions under Operation GAMA AIKI in Minna, Niger State'.
Afenifere, who also stated unofficial accounts which disclosed late Arotile had just returned from a combat operation before she was knocked down to death, alleged that the young flying officer might have been deliberately killed by sympathisers of Boko Haram Terrorists (BHT), who have infiltrated the Nigerian Military.
"We therefore do not accept that her death was an accident until the report of a coroner says how she died and how a supposed attempt to stop and greet could come with a death impact.
"We say this against what is known of the infiltration of the forces by sympathizers and agents of Boko Haram.
"We recall the report years back of such agents revealing the routes and timing of movements of our troops to Boko Haram who ambushed them", Afenifere said in the statement.
READ ALSO: [Video] NDDC Drama: How Governor Wike rescued Joy Nunieh from arrest
Furthermore, the group, while sympathizing with the family of the late promising NAF officer, whom Nigerians have described as a hero; demanded that: 
"The inquiry should look into all the links of the colleague who killed her and we must know the identity".
in the same vein, late Flying Officer Tolulope Arotile's family has also called for a thorough investigation into the circumstances that led to the sudden death of Nigeria's first female combat helicopter pilot.
"We in the family are not convinced that Tolu can just die like that in a freak accident," Ms. Damilola Adegboye, immediate elder sister to the deceased Flying Officer told Punch Newspaper.
"I know that the military is well trained in the art of investigation, we want them to carry out a thorough investigation that can convince us beyond all doubts that the incident that led to her death was real", she added.
Meanwhile, during a live radio programme – The Big Three Stories for Today on Nigeria Info FM 99.3 anchored by one Sandra Ezekwesili, a man who claimed to be an ex-soldier, choosing to be anonimous, called in from Ilupeju, Lagos Nigeria by telephone and alleged that the Nigerian Army is not only infiltrated by sabotages pretending to be soldiers, but pervaded by leaders who are pilfering the humongous resources budgeted yearly to fight insurgency in the country. 
READ ALSO: NDDC: Buhari speaks on unfolding drama, orders coordinated investigation
The acclaimed ex-soldier had in the course of the conversation with the radio presenter categorically stated that: "I was shot on purpose by my fellow soldier for always killing Boko Haram".
Watch Video:
Similarly, some Twitter users, who commented on the tweet posted by Nigeria Info FM and their presenter, Sandra Ezekwesili, corroborated the allegation by the acclaimed ex-soldier. 
One Vique, who tweeted via @viqueta stated that: "This is no joke Sandra, this guy isn't lying at all, my friend in the military band corps was sent to the NE because his boss didn't like him, he had to flee the war zone because they were always been attacked, some solders were divulging info to BH terrorists".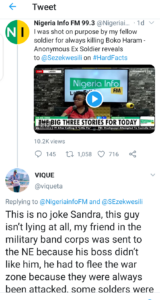 Another Twitter user named Nonso Chukwu who commented via @n_nonsochukwu explained the experience of a relative:
"Sandra i was listening to your show right at the moment he made that statement in Hausa. We lost a cousin of mine in 2018. Similar story. But he was unlucky as he did not survive the shot. He was shot by his colleague right at their post.
READ ALSO: Nigeria's-Air Task Force hits terrorists camp with devastating airstrikes in Borno
"Sandra, we never officially got any information from the Army that he was killed. He was buried in a military cemetery there in Maiduguri. No explanation came from the Army as to the cause of his death", Chukwu added.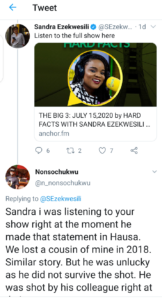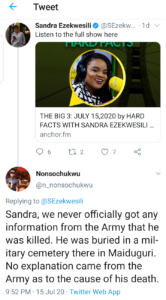 The controversy surrounding the unfortunate death of Tolulope and other claims of unexplained deaths of relations has now brought to the front burner issues of maltreatment of rank and file by the leadership of the Nigerian Military formation, including allegations that some high ranking officers are taking advantage of the fight against Boko Haram Terrorists (BHTs) to enrich their pockets; a possible reason why insurgency in Nigeria might not have ended since about a decade now.
By Tobiloba Kolawole