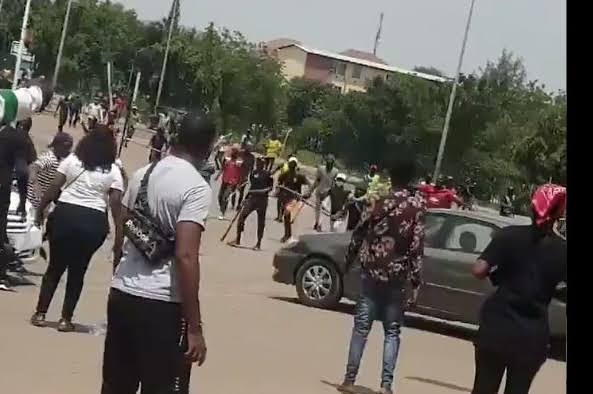 As the peaceful #EndSARs protest continued in Abuja, Nigeria's capital on Wednesday morning, demonstrators were ambushed in an attack by thugs alleged to have been sponsored by actors against the agitations by Nigerian youths, which has now transformed into a movement demanding a shift from the status quo to accountability in the nation's leadership.
READ ALSO:
How #EndSARS Protest Violently Leads to Death of a Police Inspector Killed, One Bystander and Critically Injures Two Officers in Lagos
According to eyewitnesses, the thugs were seen with sticks, cutlasses, and daggers attacking the peaceful protesters and destroying their cars, The Guardian reported.
"Someone had this(dagger) on his right hand with a cutlass, we had to run after him to remove the cutlass from his hand he almost struck one of our guys with this (dagger)," an eyewitness said on Tuesday.
"This is an exhibit, I am going hand it over to the security."
Nigerian youths took to the streets last week to protest against harrasement, extortion, extra-judicial killings and gross impunity perpetrated by men of the Nigerian Police Force (NPF), especially the notoriously perceived Special Anti Robbery Squad (SARS), a tactical unit of the state security agency that has now been disbanded by the Inspector General of Police (IGP), Mohammed Adamu, last Sunday.
The protests have been holding in different parts of Nigeria with the demand for total reform of the nation's police architecture.
READ ALSO:
Police Storms Baby Factory in Cross Rivers, Rescues Pregnant Women, Children
Some of the crimes said to be committed by officers of the defunct SARS include execution of innocent citizens and suspects without trial, kidnapping for ransom, extortion and intimidation.
Despite pronouncements by President Muhammadu Buhari and IGP Adamu on disbanding the SARS squad and promise of reforms, Nigerian youths are adamant and not yielding until there are concrete and convincing steps that true reforms have statretd.
The mistrust is not far fetched as the Nigerian Government had in the past made empty promises on multiple occasions to reform SARS and make the squad more accountable.
Tobiloba Kolawole